Little Neck Clam, Parsley, Garlic & Lemon Cream
Here is an innovative recipe that offers a fresh take on a classic dish with the clams and lemon cream bringing a touch of sophisticated exoticism. Moreover, Chablis wine is the perfect accompaniment for seafood, Chablis Premier Cru Fourchaume in particular.
List of ingredients
Serves 6-8
2 Tbsp. Extra Virgin Olive Oil
1 each Garlic Clove, minced
⅛ bunch Broccoli Rabe (equivalent to 2 ounces)
1 tsp. Kosher Salt
20 each Little Neck Clams
2 Tbsp. Extra Virgin Olive Oil
5 each Garlic Cloves, thinly sliced
1 each Shallot, minced
1 each Parsley, stem
1 each Thyme, sprig
¼ cup White Wine
1 cup Heavy Cream
Kosher Salt
Black Pepper, freshly milled
1 cup All Purpose Flour, for dusting
4 each No Knead Pizza Dough, rolled balls
Clam Cream
Clams, chopped
Broccoli Rabe
¼ cup Parsley, chopped
to taste Sicilian Chile Paste
4 each Lemon Wedge

Sommelier's tip

Chablis Premier Cru Fourchaume
This Chablis Premier Cru Fourchaume from the right bank of the River Serein, with its very aromatic bouquet, combines notes of fruit and white blossom, and is very elegant in the mouth, offering power and a rounded taste. Its minerality brings out the flavor of the clams and marries perfectly with the lemon and garlic. This unusual combination of a Chablis Premier Cru with an everyday dish dressed up by the shellfish. Arvid Rosengren, best Sommelier in the World 2016, advises allowing the wine to breathe before serving, to ensure it is perfectly aerated.
In a medium skillet over medium heat, add olive oil and saute garlic until fragrant. Add broccoli rabe and cook until tender, approximately 5 minutes. Season with salt, and once cooled, chop on cutting board.

Rinse the clams to wash off sand and debris. Soak for 30 minutes in salted water to allow the clams to purge any excess sand, then strain and rinse the clams again.
In a large shallow and wide pot, add olive oil and sweat garlic, shallots and parsley stem and thyme until translucent.

Add white wine and clams, stirring to coat. Cover the pan and allow the clams to steam until the open. Remove clams from heat and transfer to a bowl, reserve cooking liquid.
Return pan to medium heat and reduce liquid until syrupy, 12-15 minutes. Strain mixture and let cool completely.
Once cool, remove clam meat from shells and roughly chop.

In a medium bowl, whip the heavy cream to soft peaks, then stream in reduce clam liquid and adjust for seasoning. Continue to whip cream until medium peaks form.
Preheat oven to 500F with a pizza stone placed on middle rack. On a lightly floured surface, spread 1 ball of pizza dough into a 12-inch circle. Spread a quarter of the cream in a thin layer, leaving a 2-inch border around the surface of the dough. Top with a quarter of the chopped. broccoli rabe, and 1 tablespoon of the chopped parsley and chile flakes. Transfer the pizza to the hot pizza stone until crisp and golden brown, 6-8 minutes.
Remove from oven, slice and serve with lemon wedges.
Repeat with the remaining balls of pizza dough.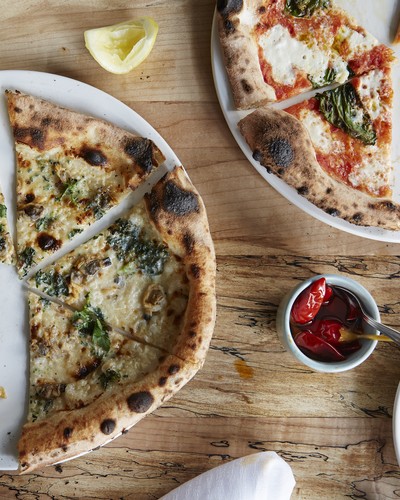 The author of this recipe
Ryan Hardy is the chef at the Italian-style contemporary eatery Pasquale Jones in New York. The crispy based pizza he serves in his restaurant combines the marine hints of clam with velvety cream and vibrant broccoli. And a Chablis Premier Cru from the Fourchaume Climat sets it off fabulously!