Lobster custard and wild flowers
Originality and liveliness are on the menu with this lobster custard, whose taste is discreetly enhanced by the addition of lime and cayenne. The peas provide a crunchy texture to the dish. Opt for a recent vintage of Chablis Premier Cru, which will most suitably accompany it.
List of ingredients
Serves 8
420 ml cream
100 ml reduced lobster stock
5 egg yolks
1 tbsp brandy
Pinch cayenne pepper
Salt
Juice of 1 lime
200 g peas, podded
2 spring onions, sliced into rings
75 ml olive oil
1 tsp dried meadowsweet flowers
Squeeze of lemon juice
Chive flowers to garnish

Sommelier's tip

A recent vintage of Chablis Premier Cru
This recipe is for a variant of lobster custard which is livened up with cayenne pepper and lime. Despite some vegetable elements, the emphasis remains the refined and powerful taste of the lobster. A Chablis Premier Cru on the young side, mineral and robust, crisp and acidic, will provide the perfect pairing that plays off the different flavours and textures. The vigour and character of the wine will contrast with the silkiness of the custard. The wine's power and aromatic finesse, with its hint of iodine/seabed, will complement the maritime lobster notes and the wildflower aromas.
Warm the 75ml olive oil and add the dried meadowsweet. Leave to infuse overnight then strain through a sieve.

Whisk the lobster stock, cream, egg yolks, lime juice brandy and cayenne pepper with a good pinch of salt. Pass through a sieve and divide between 8 small bowls or ramekins.
Place in a tray and cover with clingfilm.

Place in a steam oven at 90 degrees for 20-25 minutes. The custards should be just set with a slight wobble. Remove from the oven and leave to cool before placing in the fridge for a minimum of one hour.
To serve, dress the peas and spring onions with the meadowsweet oil and a good squeeze of lemon juice. Season with a pinch of salt. Put the pea mixture on top of the custards and garnish with chive flowers.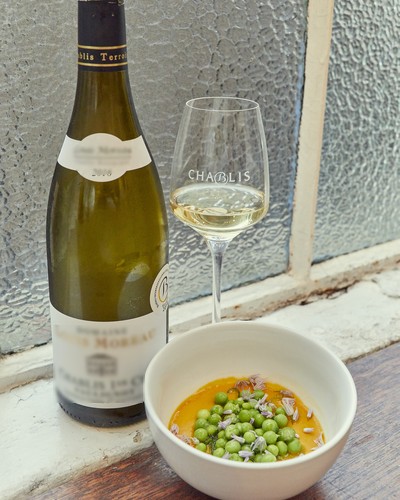 The author of this recipe
After six years working in Michelin-starred restaurants in Switzerland, France and Belgium, Merlin Labron-Johnson returned to the UK to open Portland in 2015. Nine months later, he was awarded a Michelin star at just twenty-four years old.
Merlin Labron Johnson opened a second restaurant, Clipstone, more relax and affordable in august 2016, distinguished by a Bib Gourmand from Michelin one year after opening.
After the success of his two restaurants and a team well in place, the Chef decided to spend more time for charitable causes like "help refugees". He works mainly in projects that involve feeding people.