Melon and mint Chablis granita
A Chablis wine with dessert? Why not! Let yourself be tempted by the combination of a Chablis Premier Cru Vosgros and melon with Chablis granita and mint espuma.
List of ingredients
Serves 8
For the marinated melon :
1 melon
250 ml water
100 g sugar
50 ml Chablis
½ vanilla bean
For the Chablis granita :
200 ml water
95 g sugar
150 ml Chablis
50 ml lime juice
zest of one lemon
For the mint espuma :
200 ml water
50 g sugar
30 g glucose
10 ml lemon juice
10 ml lime juice
10 g fresh mint leaves
4 g gelatin

Sommelier's tip

An aged Chablis Premier Cru Vosgros
This desert requires a rich, gourmet wine to accompany it. An aged Chablis Premier Cru Vosgros that has lost the bite of its youth but which is still flourishing will bring out the delicious flavors in this dish, while respecting the taste of the melon, mint, and granita.
For the marinated melon:
Cut the melon into pieces. In a pan, bring the remaining ingredients to a boil and pour over the melon.
For the Chablis granita :
Bring the water and sugar to a boil with the wine. When it starts to bubble, turn off the heat and add the lime juice and lemon zest. Leave to cool and then put in the freezer. Stir the preparation with a fork every hour until it has the texture of a granita.
For the mint espuma :
Bring the water, sugar, lime and lemon juice to a boil with the glucose. Remove from the heat when the first bubbles appear. Leave to cool. Blend with the mint leaves, and then pour into a syphon and add a gas cartridge.

Assembly :
Place some pieces of melon in a dish and top with some Chablis granita. Place some mint espuma to one side of the dish and decorate with a few mint leaves.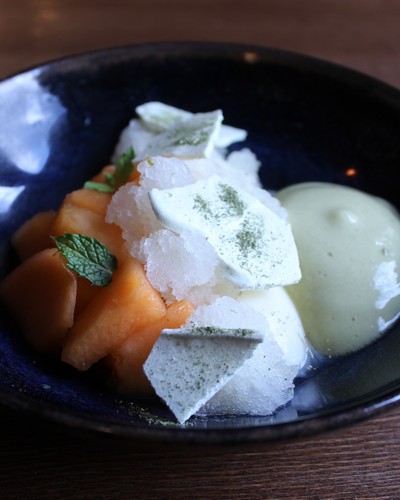 The author of this recipe
Ryo Nagahama is a Japanese chef who trained at the prestigious Tsuji school in Tokyo before continuing his studies in Lyon. That is where he met Joël Robuchon, joining the team that went to open the Atelier de Joël Robuchon in Tokyo. He then went on to run the Atelier Saint Germain in Paris before joining Yannick Alléno at the Meurice. He then rejoined Robuchon, who tasked him with opening a new Atelier in Taipei, before he returned to Paris to open the Atelier Étoile.

He worked at the restaurant "Au Fil du Zinc" in Chablis before to return to Japan.