Mussels with Chablis
Mussels go wonderfully with the wines of Chablis, which enhance their saline notes. This very simple classic recipe has been given a makeover with herbs and crunchy bell peppers to bring a delicately spicy note.
List of ingredients
Serves 4
- 1 liter of fresh and fleshy mussels per person
- 1 onion
- 4 shallots
- 1 red and 1 green pepper, finely sliced
- A bunch of parsley
- A bunch of cilantro
- Olive oil
- Salt and pepper
- Chablis wine (500ml for 4 liters of mussels)
Sommelier's tip

Chablis
A convivial dish that is quick to prepare, and perfect for a meal amongst friends. Its simple flavors are the ideal match for a Chablis wine, its mineral flavors bringing out the saline notes of the mussels while the seasonings provide a delicious twist. The natural flavors of a Chablis would make it the perfect partner for this dish.
Carefully wash and clean the mussels. Put two tablespoons of olive oil in a heavy saucepan and fry the chopped onion and shallots without browning. Add the mussels and stir, the pepper and stir again. Add the wine and cover.
Stir several times to ensure the mussels cook evenly. When the mussels are open, they are cooked. Discard any that haven't opened. Sprinkle with the chopped parsley and cilantro, spoon onto a large platter and enjoy!


We suggest you accompany this dish with the same Chablis wine as was used in its preparation.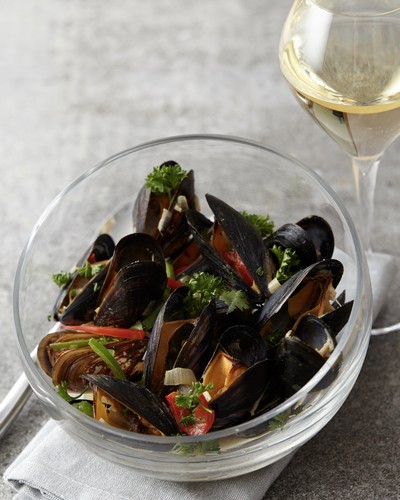 The author of this recipe