Pike-Perch fillets with Seasonal Mushrooms
Francis Salamolard demonstrates terroir cuisine with this recipe for pike-perch, a river fish that is rarely included on restaurant menus. And to underscore the authenticity of the dish, a Chablis Premier Cru Fourchaume, spectacularly enhanced over time.
List of ingredients
Serves 4
700 g pike-perch fillet, skin on
150 ml fish stock
200 ml white wine
1 shallot, chopped
140 g unsalted butter
2 tbsp olive oil
Salt and pepper
2 sprigs fresh parsley
600 g seasonal mushrooms

Sommelier's tip

Chablis Premier Cru Fourchaume from a very old vintage
A Chablis Premier Cru Fourchaume aged 20 years or more, just reaching maturity with enchanting notes of mushroom, warm stones, and toasted hazelnuts that will open up on aeration would make an obvious pairing with the fish and mushrooms. A perfect match for a magic moment…
Scale the fish and rinse. Cut into four equal-sized pieces and season on both sides. Melt 40g butter with the olive oil in a heavy frying pan over a high heat. Add the fish, skin side down. Lower the heat and cook for two minutes, before turning them over for a further 30 seconds. In a roasting tin, put the stock, wine, and one sprig of parsley. Place the fish on top.

Trim the mushrooms, rinse quickly, and leave to dry. Place in a frying pan over a high heat and cook until all the water has evaporated. Add the butter, shallot, salt, pepper, and remaining parsley. Set aside.
Just before serving, heat the mushrooms in the frying pan and then arrange on the dish with the fish.

Chef's tip
You can prepare this dish ahead of time. Serve with a vegetable side such as pureed carrots or leaf spinach.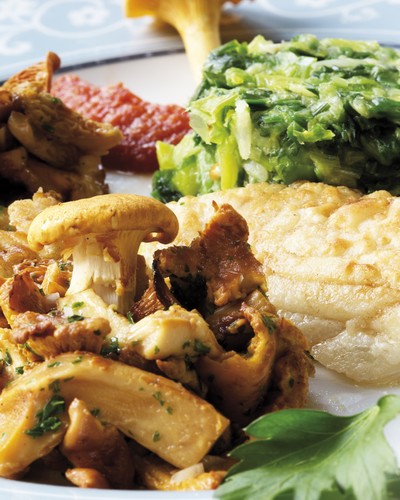 The author of this recipe
Tucked away in beautiful natural surroundings, the Auberge de L'Âtre, run by Francis and Odile Salamolard is a unique place where one immediately feels at home. The cooking is faithful to the region, with a focus on local dishes and ingredients prepared with care, like mushrooms, on of Francis Salamolard's specialties. An excellent wine list perfectly suits the dishes on offer.
Recipe from issue n°137 of Bourgogne Aujourd'hui