Tempura snails
Escargots de Bourgogne make for a popular dish, but snails in tempura – and green tempura to boot – are less well-known. This is a creation from the La Folie restaurant in Auxerre, and is perfect for an aperitif along with a glass of Petit Chablis.
List of ingredients
Serves 4

12 medium-sized cooked snails
100 g (3.5oz) flour
Water and ice cubes
Salt and pepper
A bunch of flat-leaved parsley
A clove of garlic
Sommelier's tip

Petit Chablis
"Tempura snails are served as appetizers. The Petit Chablis is a really enjoyable wine that makes a perfect aperitif. It has a floral nose, with citrus notes giving way to white flowers such as lily, both forthright and airy. Its fresh minerality makes this a delicious Petit Chablis.
I recommend serving it at 10°C."
Blanch the parsley and then plunge into iced water.Dry in a clean cloth, and squeeze out the green juice.

Place the juice in a bowl with the chopped garlic and flour and add iced water.
Mix to a creamy batter.Dip the snails in the batter and deep fry at 180°C (356°F) for around two minutes.
Enjoy!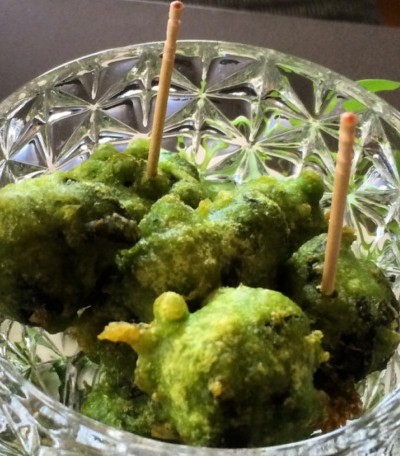 The author of this recipe
Julien and Emilie Martinat are the former proprietors of the Folie restaurant in Auxerre.