Œufs en meurette with a twist
If a classic oeufs en meurette dish isn't original enough for your event, then try this version. What was red becomes white, what was pork becomes fish, and what was heavy becomes light in this dish that won't fail to impress. And to highlight these flavors, what better than a Chablis Premier Cru Vau Ligneau ?
List of ingredients
Serves 4
4 large farm eggs
100g fresh peas
8 small pickled cucumbers
Salmon confit or smoked salmon
40g regular or lumpfish caviar
2 slices white bread, around 1cm thick
2 tsp bicarbonate of soda
250ml whipping cream
A splash of Chablis
5g miso paste
Salt and pepper
Coriander seeds

Sommelier's tip

Chablis Premier Cru Vau Ligneau
A splash of Chablis, a little miso, a few fish eggs, and a couple of coriander seeds, and you have a dish that echoes the minerality and aromatic complexity of Chablis wines. The salmon and egg bring a rich texture, so you need a wine that can both support delicate flavors and a generous texture. One solution would be a Chablis Premier Cru Vau Ligneau to offer intensity and complexity.
Bring a pan of water to a boil and add the bicarbonate of soda. Add the peas for a few seconds to blanch.

Drain and plunge in cold water to fix the color and stop the cooking. Set aside.
Cut the cucumbers into lozenges and set aside.
In a dry pan, toast the slices of bread until barely colored. Cut into cubes and set aside.

Poach the eggs in a pan of water at 75°C for 13-15 minutes, depending on the size. Or poach in the normal way in a pan of simmering water for 2-3 minutes.
Arrange the cucumber, peas, salmon, and croutons on the plate.

Mix the miso paste with the cream and add a splash of Chablis. Whisk until lightly frothy.

Place a poached egg on each plate, a few grains of caviar and some miso mousse.
Add a few grins of salt, a twist of pepper, and a few coriander seeds.
Serve immediately.

Chef's tip
To make your own salmon confit, place two thick slices of fresh salmon in a simple brine for 30 minutes. Remove, wipe off the excess, and vacuum seal with 50ml olive oil and some lemon zest. Cook at 40°C for one hour. Refrigerate immediately for 24 hours. Slice and serve.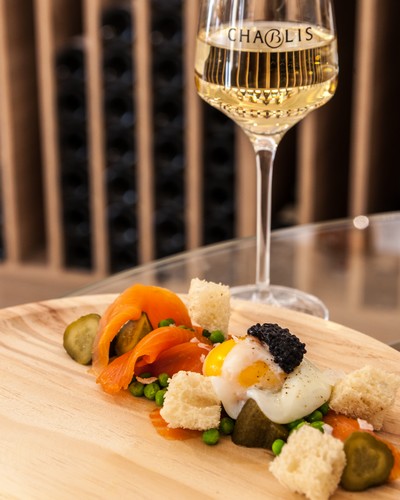 The author of this recipe