Côte de Léchet, a flag-bearing Climat
Chablis 1er Cru Côte de Léchet
A hill that was abandoned for some time, or plants that grow in damp valleys? Several theories attempt to explain the meaning behind the name of this Climat of Chablis Premier Cru.
With its 51 hectares all to itself, Côte de Léchet sits happily on the left bank by itself. Its terroir is sun-drenched, with steep slopes that reach up to 38% in some places! The grapes ripen particularly fast and the harvest usually starts quite early. Some nice Kimmeridgian marls lie at the foot of the vines, covered with clay and "terre à lapin", a form of limestone sand eroded by cold and frost. Because of the slope, thundershowers end up pushing some stones to the bottom of Côte de Léchet. Despite having good drainage, this soil calls for hard work from its wine producers who regularly have to haul earth back up!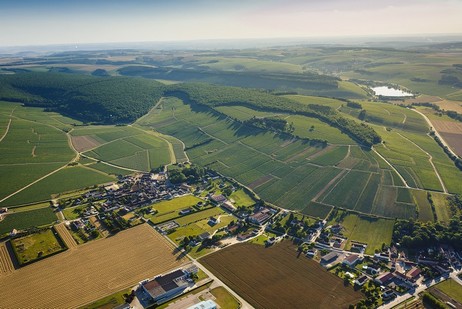 Character, stories and legends
A sun-drenched terroir means sun-filled wines! Côte de Léchet is no exception. Its ripe grapes produce a wine with fruity intensity, allied with a fine minerality. Accordingly, the wines from this Climat emerge as charming and assertive. They are immediately drinkable, and it is recommended to have them within 5 years.
Yet another Climat whose name has so many possible origins. On the one hand, it sounds like the verb "lâcher", in the sense of letting go. Was this hill abandoned for a time? On the other hand, it also sounds like "laîche", a plant that grows at the bottom of damp valleys, referring in this case to the bottom of Côte de Léchet. Another possibility is the Old French word "lèche", which means a small amount. This would refer to difficult years when the vine only produced very little.