Vau de Vey, a flag-bearing Climat
Chablis 1er Cru Vau de Vey
This Climat gets its name from the Latin word "vadum" (damp place, bog).
Vau de Vey is a flag-bearing Climat on the left bank. It includes Vaux Ragons, together with which it forms a 40-hectare island of vines. Because of its south and east exposure, Vau de Vey only gets the morning sun. It qualifies as a cool Climat, even more so due to the north wind that rushes into the valley. The grapes therefore need more time to ripen.
Another peculiarity lies in the way Vau de Vey is set on extremely steep hillsides! Machine access is almost impossible in some places! In terms of soil, the roots also face quite a challenge in struggling through a thick layer of Kimmeridgian marl.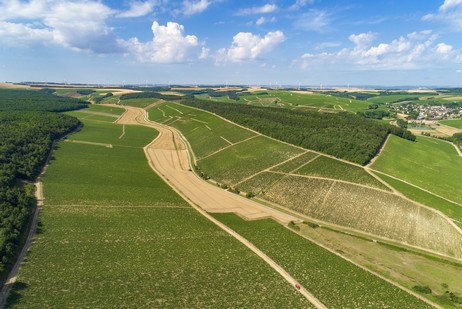 Character, stories and legends
Vau de Vey is a cool Climat that can be quite difficult to work. The wines reflect this through their restraint and high purity. Their character results from the exposure of the vines, the orientation of the valley, open to the N`orth winds, and the thick layer of Kimmeridgian marl in the subsoil. The wines of this Climat are crisp and pure. While ready to be enjoyed young, they reveal their full structure after 5 years, and can easily be aged 8 to 10 years.
From the Latin word vadum, which eventually turned into "vey" (damp place, bog). The stream that flows here used to flood the entrance to this narrow valley. It was spelled "Vau de vé" in 1537; today, it is pronounced "Vau d'Vey".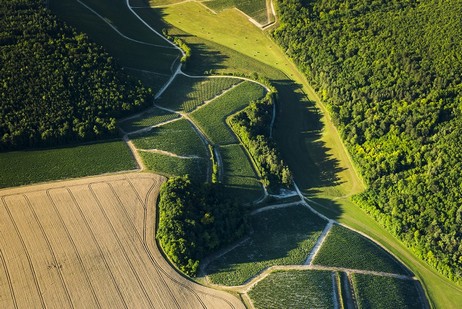 Chablis 1er Cru Vaux Ragons
Two records for this Climat: the easternmost exposure and the steepest slope (up to 45%).
Vaux Ragons lies cozily in the continuity of its flag-bearing Climat Vau de Vey. Set on the left bank of the Serein, both of these Climats of AOC Chablis Premier Cru are in the township of Beine. Clinging to the hillsides of a secondary valley and with a south and east exposure, Vaux Ragons sets two records; it has the easternmost exposure and the steepest slope, reaching 45% in places! Sun-drenched, as well as swept by north winds, Vaux Ragons is proud of its distinctiveness!
Character, stories and legends
Both sunny and crisp, the wines of Chablis Premier Cru Vaux Ragons reflect the subtlety of their terroir. Their delicate notes of white fruit are supported by a fine and chalky minerality. Lively and tense, their energy enables them to age 8 to 10 years. Because of their richness and controlled minerality, they can be enjoyed young, however. Wine producers tend to say that they reach their peak at about 5 years.
The word "vau" is found in the names of eight Climats of Chablis Premier Cru. Depending on the case, it either means "valley" or "path, road". What makes Vaux Ragons unusual? It is the only one to be in the plural form. This makes sense since several small valleys come to an end here. As for the word "Ragon", it could come from the surname of a family formerly established in Beine.