Vau Ligneau, a flag-bearing Climat
Chablis 1er Cru Vau Ligneau
A valley once covered with trees, or perhaps a small bird? The origin of the name of this Chablis Premier Cru admits many theories.
On the left bank, only four Climats are neither subdivided into secondary Climats, nor attached to a primary flag-bearing Climat — Vau Ligneau, Côte de Léchet, Chaume de Talvat and Côte de Jouan.

Set in the township of Beine, Vau Ligneau is located on the steep slope of a secondary valley of the Serein. How does it stand out? By its youth! The first vines were only planted in the '70s and '80s. Year after year, they expanded and now cover 29 hectares of this remote and narrow valley, very prone to rushing winds. The air circulation creates a cool and unique microclimate. At the middle of Vau Ligneau lies an impressive amphitheater of vines. The soil is thin, with the limestone marl so typical of Chablis.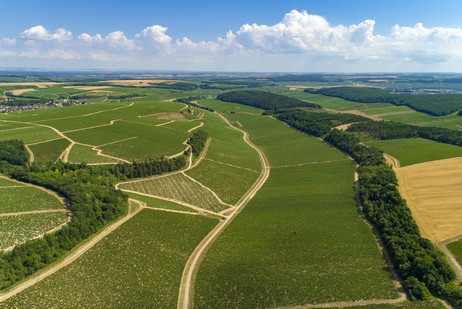 Character, stories and legends
Vau Lignau is extremely energetic. Tonic, fine and elegant, its freshness is a reflection of its difficult and windy terroir. These different styles make it both seductive and confident. It can be enjoyed young, although it benefits from at least 3 additional years to reach its full potential. After 6 to 8 years, its length on the palate, sustained by a mineral chalkiness, renders it even more charming.
Texte What could Vau Ligneau mean? For some, this name could be a corruption of "vau vigneau" (valley of vines) — a nearby lieu-dit is called "Vau Vigneau". For others, it refers to a valley formerly covered in forests from the Latin word "lignum" (wood). Maybe it stems from the local word "lignot" (bindweed) or from the word "linot", a small rural bird. Theories abound here, so take your pick!