Baked eggs, asparagus, Soumaintrain
Baked eggs are a fabulous dish, lending itself to almost any variation. What if for this once, you gave it a bit more character by adding Soumaintrain? The result is delicious: the force of the Soumaintrain is absorbed by the softness of the egg… Serve with a Petit Chablis, lively and vivacious!
List of ingredients
1 Soumaintrain cheese
10 asparagus stalks
4 eggs
2 shallots
150 g of lardons (bacon bits)
Pepper
Sommelier's tip

Petit Chablis
Petit Chablis is a great accompaniment for this dish, which manages to be flavorful, creamy, and fatty, with a hint of metallic taste because of the central place of the egg. The sharp personality of the wine, with lemon and grapefruit accents, its typical note of silex, its well-defined mouth feel, its liveliness, tactfully sharpen and heighten the unctuousness and density of the egg. The contrast harmonizes the whole. The green asparagus goes naturally with the wine due to its intensity and vegetal bitterness. The creamy texture of the Soumaintrain, for its part, is highlighted by the energy and vivacity of the wine.
Preheat the oven to 165°C in convection mode.
Fry up the bacon bits and reserve.
In the same pan, cook the green asparagus stalks (peeled) together with the minced shallots for about ten minutes. Retain a few of the asparagus tips for decoration at the end.
Cover the bottom of the ramekins with the fried mixture. Cover the asparagus-shallot mixture generously with slices of Soumaintrain (plan on two slices per person). Break an egg on top, add the bacon bits. Adorn with the reserved asparagus tips (careful: don't salt, the salt in the cheese and the bacon suffices).
Place the ramekins in a bain-marie in the oven, for about 15 minutes at 165°C (convection). Upon removal from the oven, fashion bread fingers from a good country loaf, and serve with some lettuce leaves.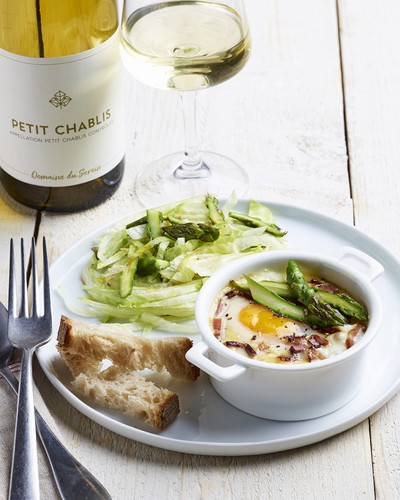 The author of this recipe
Anne-Sophie Salgado, winner of the competition : Soumaintrain & Chablis, an exquisite combo.
In collaboration with Soumaintrain. Discover Soumaintrain at www.fromage-soumaintrain.fr