Brandade of salt cod, anchovy and caper salsa
A very popular dish in Portugal, salt cod can be prepared in countless ways. Chef Jason Roberts proposes here a brandade which is enlivened by an anchovy and caper salsa.
Ideal for the aperitif hour! The vivacity of a young Petit Chablis perfectly complements this very tasty dish.
List of ingredients
Brandade
500 g salt cod, soaked for 24 hours in cold water (refresh water every 8 hours)
1 l milk
4 fresh bay leaves
1 onion cut into quarters
1 tbsp white peppercorn
500 g Desiree potatoes, steamed till tender and peeled. Passed through a mouli or ricer
200ml cream warmed with 3 fresh bay leaves
200 ml extra virgin olive oil warmed with 2 bruised garlic cloves
Salt
¼ teaspoon white pepper
¼ teaspoon ground nutmeg
Anchovy and caper salsa
15 anchovy fillets, cut into thin strips
2 tbsp of baby capers, drained of brine (or washed and free of curing salt)
½ cup extra virgin olive oil
1/3 cup chopped flatleaf parsley

Sommelier's tip

Petit Chablis (recent vintage)
This traditional dish works well with young, crisp, and lively white wines. With notes of wet stone and lemon zest, a Petit Chablis stands up to the richness of this Mediterranean dish and creates a complementary pairing.
1. Prepare the anchovy and caper salsa by mixing all ingredients together and set aside.
2. Bring the soaked salt cod (skin side up) to the boil in a large pan covered in milk and aromatics. Add additional water if needed to cover. Once boiling, reduce heat to a simmer and continue to cook for a further 40 minutes or until salt cod is tender, remove from heat and allow to cool. Separate salt cod flesh from any skin and bone, discard milk and aromatics.
3. In a large saucepan over low heat, mix the cooked cod with the mashed potatoes, add the perfumed oil and cream slowly, mixing well to emulsify (discarding the bay leaves and garlic). Season with cracked white pepper and nutmeg. Taste and adjust salt levels if necessary.
4. Serve warm, spread over toasted croutons, topped with the anchovy, caper and parsley salsa.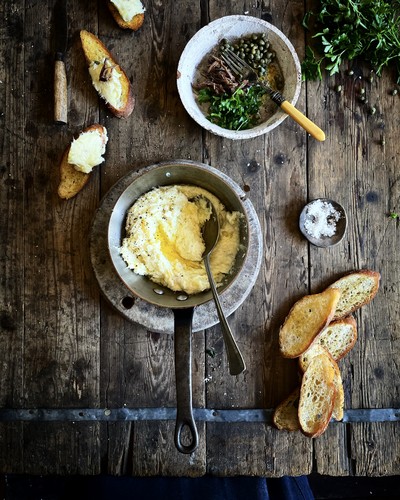 The author of this recipe
Born in New Zealand, Jason Roberts grew up in a family of professional cooks and discovered his passion for food at a young age. Turning it into a career, he spent seven years as an Executive Chef at Bistro Moncur in Sydney, Australia, where he was immersed in the traditions and techniques of French cuisine by his mentor, Damien Pignolet. Splitting his time between Sydney and New York City, Jason regularly travels the world as a guest speaker at top food shows and culinary events. Believing that mealtime fosters deeper connections between family and friends, Jason's motto is: "A family that cooks together, stays together."