Brill fillet with samphire, lemon and almonds
Brill has the advantage of combining well with many different ingredients and flavours. In this recipe, it is samphire that beautifully complements the fillets of brill. The toasted almonds supply some crunch. As for the Chablis, its liveliness lends perfect balance to the dish.
List of ingredients
Serves 4
4 x 160 g fillets of brill
200 g samphire
100 g flaked almonds, toasted
1 handful chopped parsley
Skin of 1 preserved lemon, finely chopped
150 g butter

Sommelier's tip

A Chablis of recent vintage
Brill, a cousin of the turbot, is a delicious fish whose fillets have a delicate flavour. Here, the frying in butter suggests the use of a dry, moderately strong white wine, and the presence of samphire calls out for a wine with a pleasant hint of iodine that is able to sustain the combination. A rather young and lively Chablis ideally fits the bill. Its acidity will temper the grilled butter taste, while its iodine aspect will transcend the pronounced maritime flavour of the samphire. The result is not just a simple pairing but a real harmony!
Melt the butter in a saucepan and cook until it starts to turn brown and smell slightly like a biscuit. Remove from the heat. Add the almonds, lemon skin and chopped parsley.

Fry the brill fillets for 3 minutes in a little oil on the skin side then flip them over and remove the pan from the heat. Leave the fish to cook in the residual heat of the pan.

Whilst the fish is finishing to cook place the samphire in another sauce pan. Turn the heat to full and add two spoonful's of water and a glug of olive oil, cook over a high heat for one minute.
Divide the fish between 4 plates and top with the warm samphire. Finish with a generous spoonful of the almond dressing per plate.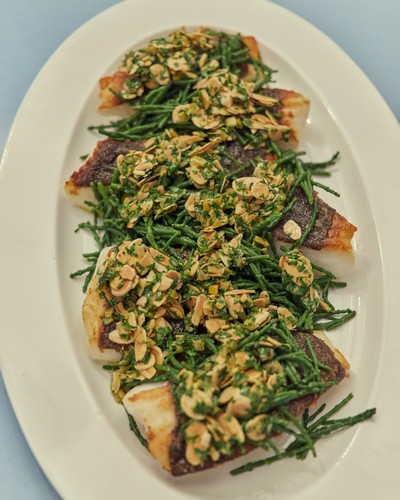 The author of this recipe
After six years working in Michelin-starred restaurants in Switzerland, France and Belgium, Merlin Labron-Johnson returned to the UK to open Portland in 2015. Nine months later, he was awarded a Michelin star at just twenty-four years old.
Merlin Labron Johnson opened a second restaurant, Clipstone, more relax and affordable in august 2016, distinguished by a Bib Gourmand from Michelin one year after opening.

After the success of his two restaurants and a team well in place, the Chef decided to spend more time for charitable causes like "help refugees". He works mainly in projects that involve feeding people.