Brill ragout with summer cabbage, cider and horseradish
Brill, cabbage, and horseradish: who would have thought? The talented English chef Merlin Labron-Johnson dared to, and the result is a treat! This dish is a beautiful grouping of flavours and sensations based upon the delicacy of the brill, the authenticity of the cabbage, and the character of the horseradish. A Chablis Premier Cru Mont de Milieu plays the role of the maestro in orchestrating the ensemble of the dish's elements.
List of ingredients
Serves 4
400 g brill trimmings (head, collar, skirt and tail)
400 ml cream
ltr cider
750 ml fish stock
handful chopped chives
4 cabbage leaves
horseradish

Sommelier's tip

Chablis Premier Cru Mont de Milieu of an older vintage
Brill is a fish worthy of fine cuisine, and in this recipe it is poached in a creamy reduction sauce. The presence of cabbage and chives offers an earthy contrast to the seafood theme. Be mindful of the horseradish: only a dry and crisp white wine can stand up to it. This suggests quite naturally a mature Chablis Premier Cru of the right bank, a Mont de Milieu, a dense, aromatic wine whose minerality is ideal here. The pairing is based on the tension between the richness of the cream and the vigour of the wine, and the harmony between the ripe fruity aromas of the wine and the earthy components of the dish.
Chop the brill trimmings into bite sized pieces.

Reduce the cream until you have just 100ml.
Reduce the cider until you have just 100ml.
Reduce the fish stock until you have 100ml.

Mix the 3 liquids together and bring to the boil. Add the fish trimmings and cook for 1 minute.

Check the seasoning and add a little salt if needed.

Stir in the chopped chives and divide between 4 bowls.

Boil the cabbage leaves for 1 minute in boiling salted water and place on top of the fish ragout.

Finish with some freshly grated horseradish and serve immediately.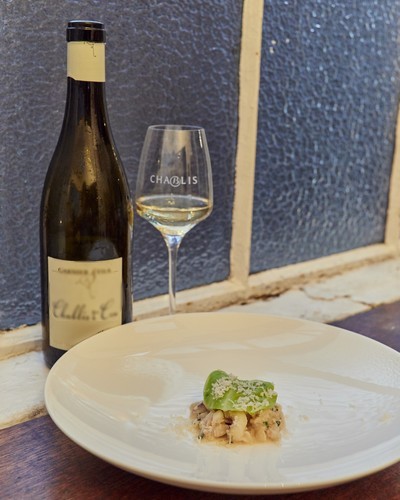 The author of this recipe
After six years working in Michelin-starred restaurants in Switzerland, France and Belgium, Merlin Labron-Johnson returned to the UK to open Portland in 2015. Nine months later, he was awarded a Michelin star at just twenty-four years old.
Merlin Labron Johnson opened a second restaurant, Clipstone, more relax and affordable in august 2016, distinguished by a Bib Gourmand from Michelin one year after opening.
After the success of his two restaurants and a team well in place, the Chef decided to spend more time for charitable causes like "help refugees". He works mainly in projects that involve feeding people.