Carpaccio of Scallops with Grated Egg Yolk and Enoki Mushrooms
This recipe requires a little advanced preparation – 11 days to be precise, in order to prepare the egg yolks to combine with the scallops and mushrooms, but you won't regret it! Christian Lersch was one of the winners in a competition for bloggers with this recipe. Ready, steady, cook!
List of ingredients
Serves 4

200 g sugar
200 g salt
3 egg yolks
150 g enoki mushrooms
Olive oil
4 leaves of fresh basil
8 scallops (sushi-style)
Icing sugar
Salt and pepper

Sommelier's tip

Chablis
The wine of Chablis reveals some appetizing floral notes that transition into more fruity notes of apricot and peach. On the nose, it also offers citrus and a fresh buttery aroma. In the mouth, it is lively, particularly delicate, and offers good minerality.
1. Mix the sugar and salt, and pour half into a bowl, and place the egg yolks on top. Cover with the remaining sugar and salt and place in the refrigerator for 10 days.

2. Remove the yolks, rinse well and wipe carefully. Leave to dry in the oven at 50°C for 12 hours. They will keep for around four weeks.

3. Wash the mushrooms and fry in a little olive oil. Season lightly with salt.

4. Crush the basil leaves in some olive oil and season with salt. The mixture should be fluid.

5. Cut the scallops horizontally in very thin slices. Place in circles on heated ovenproof plates. Sprinkle with a little icing sugar and caramelize with a gas flame, without burning!

6. Arrange the mushrooms on the plate and finely grate the marinated egg yolk over the top. Add the basil sauce, season with salt and pepper, and serve immediately.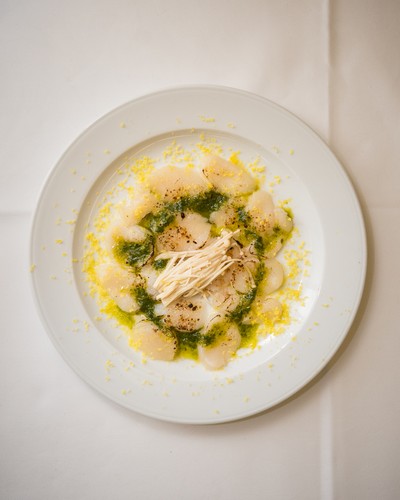 The author of this recipe
Christian Lersch is one of the six winers of the blogger challenge organized by Chablis Wines with the german Magazine Effilée.
He has been running his Küchenjunge blog for almost three years, and is particularly interested in how to best combine food with wines, beer, and spirits.
www.kuechenjunge.com