Cévennes Arctic char with watercress coulis, crispy sausage, white butter and vin jaune
Tomofumi Uchimura has created an out-of-the-ordinary holiday recipe by using Arctic char, a freshwater fish that belongs to the same family as salmon and trout. The ingredients are skillfully chosen to ensure a delicate dish to be showcased by a Chablis Premier Cru.
List of ingredients
Serves four
1 fillet of Cévennes Arctic char
4 mini leeks
1 preserved egg yolk
1 mini marinated white onion
100g cooked quinoa
1/2 a lemon
1 shallot
Powdered Flavigny aniseed
Capers
Chives
White vinegar
Almond oil
Vin jaune
Crispy Morteau sausage

Sommelier's tip

Chablis Premier Cru
Arctic char is a fatty fish, and when served with the herbaceous flavors of watercress, calls for a wine with an assertive minerality, with little or no woodiness. Tomofumi Uchimura's natural choice would be a Chablis, and a Premier Cru if possible, with a remarkable terroir such as Montée de Tonnerre, Vaucoupin or Mont de Milieu.
Blanch the watercress and drain. Blend with some of the cooking water, add a little white vinegar.

Cook the leeks in boiling salted water for about two minutes, cool them in iced water and drain. Fry them briefly in a pan and set aside.

Cook the quinoa in boiling water for 15 minutes, cool and drain well. Season with capers, chives, almond oil. Set aside.

Cook the char fillets without coloring in a foaming butter. Be sure to keep the flesh pink.

Sweat the chopped shallot in butter and moisten with the wine. Whisk in the butter and then add a dash of vin jaune at the last moment.
Assembly :
Place three spoonfuls of watercress coulis on a plate and arrange the leeks with the fish, the sausage, and the onions. Sprinkle with the powdered Flavigny aniseed and grated egg yolk.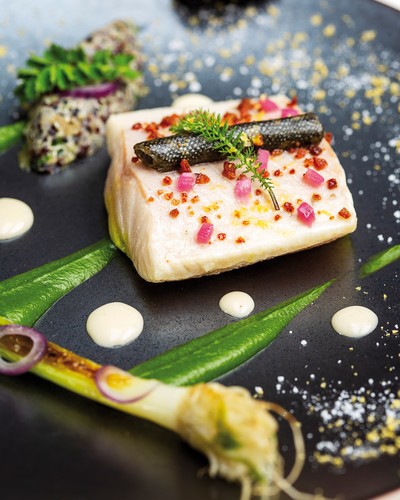 The author of this recipe
Tomofumi Uchimura, chef at the Stéphane Debord restaurant in Dijon.
www.restaurantstephanederbord.fr/en/
This recipe was published in edition n°150 of Bourgogne Aujourd'hui magazine.