Chicken Supreme with Truffles
Delicacy, finesse and gourmandise are the keywords defining this recipe. The combination of chicken and truffle is tasty and harmonious. A Chablis Premier Cru is the perfect companion to the dish.
List of ingredients
Serves 8
Ballotines
4 fattened chicken fillets
30 g Bourgogne truffles
4 eggs
40 g cream
Salt and pepper
Crémant de Bourgogne gravy
50 g butter
1 large shallot
1 onion
1 bay leaf
½ bottle Crémant de Bourgogne
½ L cream
Sommelier's tip

Chablis Premier Cru
This dish combines generosity and delicacy. The tenderness of the chicken and the velvetiness of the cream sauce are beautifully enhanced by the powerful taste of the truffle, adding texture to the dish. The finesse and aromatic complexity of a Chablis Premier Cru are in perfect alignment with this balance.
Ballotines :
Separate the chicken aiguillettes from the fillets.
Chop the truffles coarsely.
Chop the aiguillettes in a food processor. Then add the eggs, the cream, the truffle pieces, salt and pepper.
Cut a pocket into the side of each chicken breast and spoon the stuffing into each one evenly. Fold down the edges to turn them into rolls. Form the ballotines by tightly wrapping them in plastic wrap and tying a knot at each end.
Immerse them in a large pot of boiling vegetable stock and simmer for 30 to 40 minutes.
Remove the ballotines from the stock and slice into chunks.
Give them some color by frying them in some butter.
Crémant de Bourgogne gravy :
Finely chop the shallot and onion. Melt the butter in a skillet and gently sauté the shallot and onion.
Add the bay leaf without letting anything brown.
Deglaze with half the Crémant, let it reduce by a quarter, add the cream and then let it reduce by half.
Towards the end, add the remaining Crémant, quickly bringing it to a boil. Strain the gravy and adjust the seasoning.

Chef's tip :
Serve the ballotines with a puree of tuberous chervil, an heirloom vegetable best cooked in milk, or with mashed potatoes to which you can add slices of truffle at the last minute.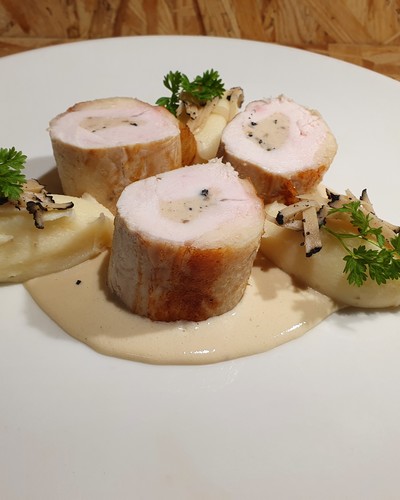 The author of this recipe