Crab tartare with passion fruit mousse and gingerbread foie gras
Combining crab with mango offers an ingenious and delicious combination in a fresh-tasting dish to savor. A Chablis Premier Cru Les Beauregards will underscore and perfectly balance these marvelous flavors.
List of ingredients
Serves four
100 g cooked crab meat
2 large carrots
1 mango
50 g passion fruit coulis
50 g fresh coriander
20 g foie gras
Salt and pepper
Olive oil
Lemon juice
100 g egg white
1 leaf of gelatin
150 g gingerbread (crumbs)

Sommelier's tip

Chablis Premier Cru Les Beauregards
A Chablis Premier Cru Les Beauregards will chime delicately with the zingy passion fruit and will cut through the richness of the crab, whilst pairing perfectly with the crunchy carrots. A wine to savor with the tropical salinity of this dish.
To make the passion fruit mousse, combine the egg whites with the passion fruit coulis and gelatin, and place in a syphon with two cartridges. Leave to chill for one hour.
Chop the carrots into julienne strips and the mango into small cubes. Season and add a tablespoon of olive oil.
Season the crab and mix with the chopped coriander, a tablespoon of olive oil, and the lemon juice.
Place the carrot and mango in the bottom of a ring on the plate, and place some crab mixture on top. Make balls of foie gras and roll in the gingerbread crumbs. Arrange the balls around the crab. Just before serving, add some passion fruit mousse to the top of the tartare.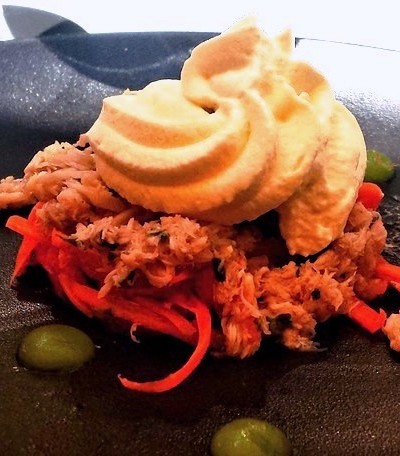 The author of this recipe