Crispy sesame salad with scallops and cauliflower
This dish is ideal as a starter and would be ideal served with a glass of chilled Petit Chablis. Serves two as a main course.
List of ingredients
Serves four
Half a cauliflower
Butter
Olive oil
Salt
Little gem lettuces
12 large scallops
2 limes cut into quarters
Vinaigrette :
2 tbsp sesame seeds
1 egg yolk
1 tsp salt
1 tbsp white wine vinegar
10cl neutral cooking oil
1 tsp sesame oil
1 clove of garlic
Sommelier's tip

Petit Chablis
This dish combines the sweetness and delicacy of the scallops with the crunch and subtle flavor of the sesame seeds. A crisp, fresh wine such as a Petit Chablis would make a perfect match.
Sauce vinaigrette :
Toast the sesame seeds in a hot, dry frying pan for around two minutes, until lightly browned. Allow to cool slightly and then crush in a mortar.
Mix the egg yolk with the salt and vinegar. Slowly add the neutral oil, whisking constantly. Mix in the crushed sesame seeds, sesame oil, and a little grated garlic.
Cauliflower :
Break the cauliflower into florets and brown them in the olive oil and butter until they are cooked. Season.
Scallops :
Fry the scallops in a hot pan with the olive oil. Cook over a high heat for around one to two minutes on each side. Season.
Service :
Arrange the salad leaves in shallow bowls. Garnish with cauliflower and scallops and add some sauce. Serve with lime quarters.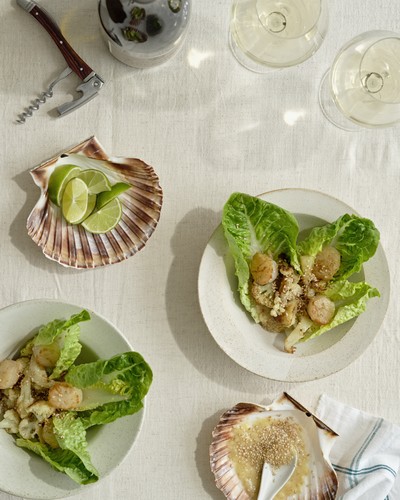 The author of this recipe