Duck foie gras with fig compote, diced beetroot, and gingerbread
Foie gras is ideal for sweet and savory partnerships and figs make an excellent accompaniment. The beetroot is also a delight in this dish which, when served with a Chablis Grand Cru, will delight your taste buds!
List of ingredients
Serves 8 to 10
Foie gras:
500 g whole duck foie gras
6 g salt
1 g pepper
1 g sugar
5 cl brandy
5 cl white port
½ a tonka bean
Beetroot dice and fig compote:
10 figs
1 large beetroot
100 ml olive oil
100 ml sherry vinegar
Gingerbread:
300 g honey
150 g milk
200 g rye flour
100 g all-purpose flour
20 g baking powder
60 g sugar
6 g ground cinnamon
2 g ground nutmeg
2 g ground star anis
2 g ground ginger
1 vanilla bean
Lemon and orange zest

Sommelier's tip

Chablis Grand Cru
The sweetness of the figs and the unique flavor of the beetroot make for a wonderful and structured accompaniment to the foie gras. This dish is calling out for a great wine that is sufficiently lively to tame the richness of the foie gras. The minerality and aromatic subtility of a Chablis Grand Cru are perfect to balance and underscore the quality of this dish.
De-vein the foie gras and season with the salt, pepper, sugar, brandy, and port. Leave to marinade for between two and four hours and then cook in a plastic film-lined terrine at 56°C for 45 minutes. Remove from the oven and leave to rest for 10 minutes before weighting and setting aside in the refrigerator for 24 hours.

Wash the beetroot and wrap in foil. Place on a baking sheet with the rock salt at 150°C. When cooked, cut into dice, keeping only the perfect specimens. Blend the leftovers into a purée, adding a little vinegar.
Set aside a few fresh figs for plating, and then fry the remaining figs gently in a little olive oil, deglaze with sherry vinegar, and leave to cook.

For the gingerbread, carefully mix together the dry ingredients with the liquid ones. Then bake the mixture at 150°C for 40-45 minutes. When cool, unmold the gingerbread and cut into portion-sized slices. Reduce the leftovers to crumbs and dry them out in the oven to be used for coating the slices of foie gras.

Chef's tip
Grate the equivalent of half a tonka bean onto the foie gras to season it. This will give a sweet flavor to your end-of-year celebrations. Enjoy the foie gras a few days after cooking for the very best flavor and texture.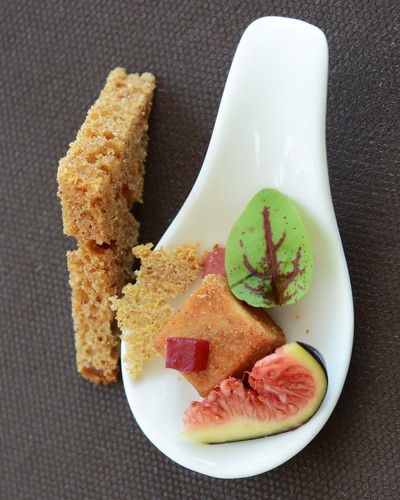 The author of this recipe
The Clos du Cèdre restaurant welcomes you in the heart of an old 19th-century winemaker's mansion set in magnificent gardens. Since June 2019, Jordan Billan has been creating a sober and accomplished cuisine, leaving the authentic flavors of the dishes to shine through. The wines of the Bourgogne region also feature significantly in his preparations.
In partnership with the Côte d'Or Tourisme and Le Bien Public