Foie gras mi-cuit with ponzu breadcrumbs and an olive-caper condiment
With this dish, Keigo Kimura is demonstrating his talent with a blend of new flavors from far and wide, dosed with a skilled hand to give a contemporary flavor to the foie gras and underscore its nobility. A Chablis Premier Cru is the perfect pairing for this delicate dish.
List of ingredients
Serves four
250 g foie gras terrine
Condiment
10 g shallots
25 g capers
25 g olive oil
50 g black olives
Ponzu breadcrumbs
40 g soy sauce
10 g kombu
20 g cider vinegar
10 g lemon juice
50 g bread, crusts removed
Bread crisp
50 g bread
Sommelier's tip

Chablis Premier Cru
This dish offers a skilled combination of flavors and textures between the tender foie gras, the acidity of the olives and capers, and the crispy bread. The minerality and aromatic subtlety of a Chablis Premier Cru perfectly highlights the balance of this dish.
Olive-caper condiment : Chop the ingredients and mix together.
Ponzu breadcrumbs : Soak the slices of bread in the liquid ingredients. Leave to dry and then process.
Bread crisp : Slice the bread thinly. Wrap around a 1cm-diameter stainless-steel tube. Bake at 170°C for four minutes and then remove from the tube. Set aside.
Finishing : Cut the foie gras into four rectangular portions and coat with the ponzu breadcrumbs. Garnish with the condiment and place the bread crisp on top.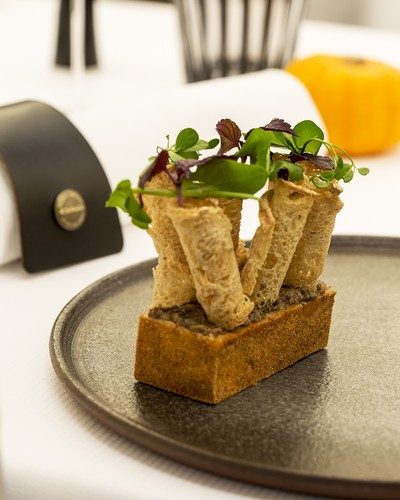 The author of this recipe
Keigo Kimura, chef at l'Aspérule in Dijon (43 rue Jean Jacques Rousseau)
www.facebook.com/RestaurantLasperule
This recipe appeared in Bourgogne Aujourd'hui n°144 (December 2018 – January 2019)