Pike Cake with crayfish
A pure delight for your taste buds! Velvety, unctuous, and elegant — all you need to feast and to delight your guests. For perfect harmony, go for a Chablis Grand Cru!
List of ingredients
Serves 8
Pike cakes
1 kg pike, skinned and deboned
400 g crayfish tails
40 g salt
400 g soft butter
4 whole eggs
4 egg yolks
1L whipped cream
Freshly ground black pepper
Crayfish sauce
Stock vegetables and seasonings (carrot, onions, celery, bay leaf and a few peppercorns)
20 g Cognac
100 g fish stock
100 g white wine
½ L cream
100 g crayfish tails
100 g butter

Sommelier's tip

Chablis Grand Cru
The aromatic subtlety of a Chablis Grand Cru complements this pike-based recipe perfectly. Its vibrancy matches the crayfish and brings balance to the cream-based sauce.
Pike cakes :
Mince the pike with the salt (using a food processor is even better).
Add the softened butter, the whole eggs and the yolks. Using a spatula, fold in the whipped cream then the 400 g of crayfish tails.
Divide the pike stuffing in ramekins or put it all in a terrine dish. Bake in a steam oven at 85°C for 30 minutes or place the ramekins in a double boiler and bake at 145°C for 45 minutes. Test with a small knife to monitor cooking.
Leave to cool until ready to unmold, then pan fry the cakes in a little butter for color (they should be crisp on both sides).
Crayfish sauce :
Melt the butter and lightly mash the vegetables. Flambé it all with Cognac.
Add the white wine and let it reduce by a quarter.
Add the fish stock and let it reduce by half.
Add the cream and simmer until you have a creamy consistency.
Strain the sauce, add the crayfish and adjust the seasoning.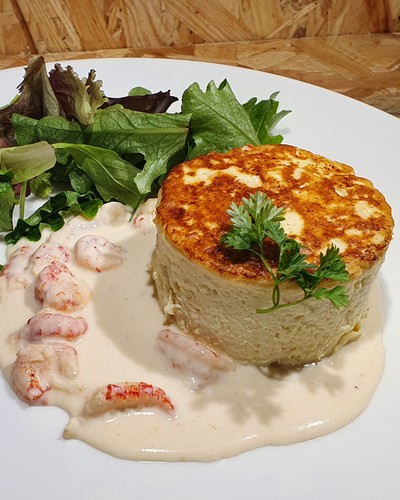 The author of this recipe