Porcini mushroom and chestnut soup
Autumn arrives, and hurrah: it's not just wind and rain and dark days. Indeed, nature is magnificent in the Fall, a real treat. And so is this recipe from Emmanuelle Geoffroy, a delicious and comforting porcini mushroom and chestnut soup. Serve it with a Chablis Premier Cru Côte de Léchet.
List of ingredients
Serves 8
800 g/1 kg porcini mushrooms (cèpes)
400 g of chestnuts
1 orange
1/2 onion
2 cloves of garlic
A few sprigs of thyme
6 cl of cognac
10 g of butter
2 tbsp of vegetable oil
1.5 chicken stock cubes
15 cl of sour cream (30% fat)
Salt
Pepper
1 tsp paprika
1/2 tsp ground ginger

Sommelier's tip

Chablis Premier Cru Côte de Léchet – aged 4 to 5 years
The fully ripe grapes of the Chablis Premier Cru Côte de Léchet produce a wine with intense fruit, heightened by a fine minerality. Upon ageing, this Chablis Premier Cru fills out and displays floral notes and yellow fruit scents, an expressive and promising nose, ample and generous to the palate. Its aromatic complexity serves to bring perfectly into focus the softness of the chestnut and the unctuous texture of the velouté.
Prepare 2 liters of chicken stock by boiling 2 liters of water with the stock cubes.
Melt the butter in a frying pan and add the chopped onion half. Cook for 2 minutes, then add the chestnuts and the grated garlic. Cook for a further 3 to 4 minutes, and then deglaze with the cognac for 1 to 2 minutes. (Whiskey can substitute for cognac if necessary.) Proceed on medium heat.
Put aside one medium-sized mushroom per person and a few chestnuts.
Clean the rest of the mushrooms, chop them coarsely, and add them to the chestnuts. Add the sprigs of thyme, the paprika, the ginger, the stock and some salt.
Cook on medium heat for 30 minutes covered, plus 15 minutes uncovered.
Whip up the cream (unsweetened) and reserve in the refrigerator.
Ten minutes before the cooking ends, heat the oil in a pan. Fry the cèpes that have been reserved, having first cut them in two and having crosshatched them with the knife (cut side down first, for 5 minutes, then 5 minutes on the other side). Salt.
After the cooking, remove the thyme sprigs, blend with a stick blender, and then pass the mix through a food mill.
Add half of the orange zest, taste, adjust the seasoning, pepper, and add more zest according to taste.
Place the mushroom halves on the plates with a few chestnuts. Pour over the velouté and add a dollop of whipped cream.
Now serve!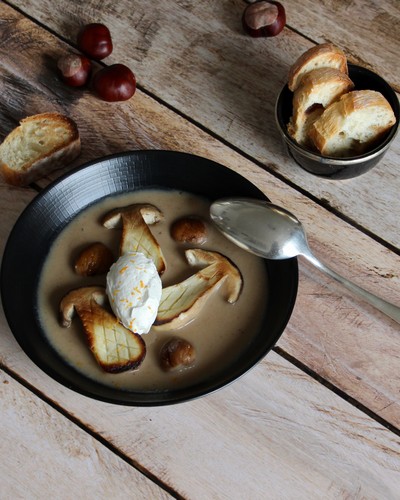 The author of this recipe
Emmanuelle GEOFFROY, who has a passion for cooking (she's been doing it since infancy) is currently cooking at home.
Discover all her recipes on her site Casserole et Chocolat.fr