Potted trout on fennel and cumin bread
For a sophisticated summer aperitif, try this recipe for potted trout. Made with vermouth and yoghurt, a few slices of bread, some trout fillets of course, a few vegetables and a handful of seeds, a little Chablis and some crème fraiche, what could be easier?
List of ingredients
Serves 4
For the trout :
2 fillets of smoked trout
1 carrot, peeled and finely chopped
1 shallot, finely chopped
1 tbsp. olive oil
50ml Chablis
3 radishes, finely chopped
2 tbsp. capers
½ an organic lemon (zest and juice)
2 tbsp. Noilly Prat
3 tbsp. crème fraîche
Salt, pepper (Andaliman if possible), dill, and flat-leaved parsley to garnish
For the bread :
1 tsp. cumin seeds
1 tsp. wild fennel or fennel seeds
300g bread flour
A pinch of salt
2 tsp. baking powder
300g plain yoghurt

Sommelier's tip

Chablis Premier Cru Fourchaume
This Chablis Premier Cru is rather reserved, extremely elegant, subtly flavored and beautifully balanced. In the mouth, it is rich with aromas of ripe pineapple and melon, with a touch of fresh butter and a hint of honey. It is warm, with a firm structure offering wonderful length on the tongue.
Preparing the trout
1. Flake the trout fillets, taking care to preserve the structure.
2. Sweat the carrot and shallot in the olive oil without browning. Add the Chablis wine, cook over a low heat for 5 minutes, then place in a mixing bowl with the trout.
3. Add the radishes, capers, lemon juice and zest, Noilly Prat, and crème fraîche. Mix and season.
4. Place individual portions in verrines.
Preparing the bread
1. Dry fry the seeds and crush finely in a pestle and mortar. Place in a bowl with the dry ingredients and combine.
2. Fold in the yoghurt and combine into a dough.
3. Roll out a small piece of the dough with a rolling pin on a floured work surface, and pierce several times with a fork.
4. Cook on both sides in a frying pan, turning regularly. Press down with another pan if the dough becomes too thick.


Assembly
Serve the trout verrine with the bread, and the chopped parsley and dill in a small bowl.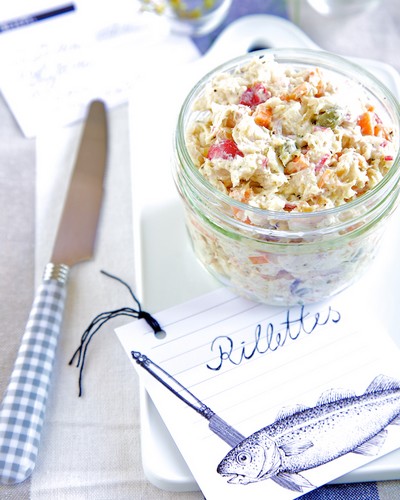 The author of this recipe
Sandy Neumann, is one of the six winers of the blogger challenge organized by Chablis Wines with the german Magazine Effilée.
Sandy Neumann is an occupational psychologist who created her blog, Confiture de Vivre, in 2010. It is inspired by the French lifestyle and mainly features cuisine, wine, and travel.
www.confiture-de-vivre.de