Sautéed Clams Pairing with Chablis Wine
These delicious clams are very simple to prepare. Garlic, tomatoes, white wine and that's it! Now enjoy them with a Petit Chablis of course!
List of ingredients
1 lb Manila clams or little neck clams
2 tablespoons olive oil
4 cloves garlic, minced
1/2 cup white wine
6 oz tomatoes, cut into small cubes
1 pinch salt
1/2 tablespoon lemon juice
1 tablespoon chopped parsley
Lemon wedges, for garnishing
Sommelier's tip

Petit Chablis
The velvety texture and the briny flavour of the clams pair perfectly with the delicacy of a Petit Chablis.
1. Scrub, clean and rinsed the clams with cold water. Drain and set aside.

2. Heat up a skillet (cast-iron preferred) and add the olive oil.

3. Sauté the garlic until slightly browned, then add the clams.

4. Stir a few times before adding the white wine and tomatoes.

5. Cook the clams until they are all open, add the salt, lemon juice and chopped parsley.

6. Stir to combine well.

7. Turn off the heat, garnish with the lemon wedges and serve immediately.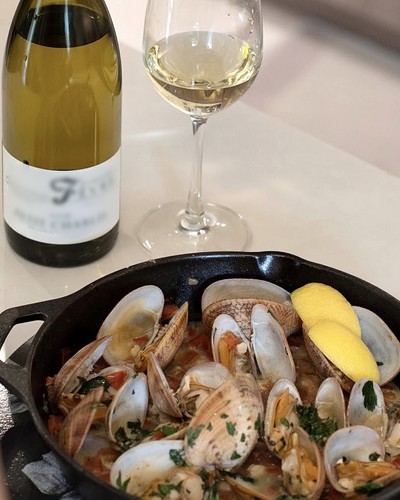 The author of this recipe