Sea bass ceviche
Fresh and delicious, this recipe is perfect for lunch, an aperitif, or a dinner party. Pair it with a Chablis its freshness is a perfect match for this dish.
List of ingredients
Serve 2 :
150 g sushi grade sea bass
1 grapefruit
3 limes
1 large tomato, seeds removed
1/2 red onion
1 green chilli
Handful of coriander

Sommelier's tip

Chablis
The vibrant citrus notes and minerality of a Chablis are perfectly in line with this dish. The addition of grapefruit adds warmth to the ceviche and the green chilli pepper give a little kick in every mouthful. A fresh and lively Chablis is the perfect pairing for this recipe!
1 - Thinly slice the sea bass into thumb-sized pieces & lay on the bottom of 2 bowls.
2 - In a bowl juice 1/2 grapefruit & 3 limes. Stir the juice & pour over the sea bass.
3 - Slice the other 1/2 of the grapefruit into small centimetre pieces. Thinly slice the tomato, red onion & green chilli. Decorate each bowl with the grapefruit, tomato, red onion & green chilli & refrigerate for 20 minutes.
4 - Remove from the fridge & sprinkle with chopped coriander. Serve immediately with a cool glass of #purechablis.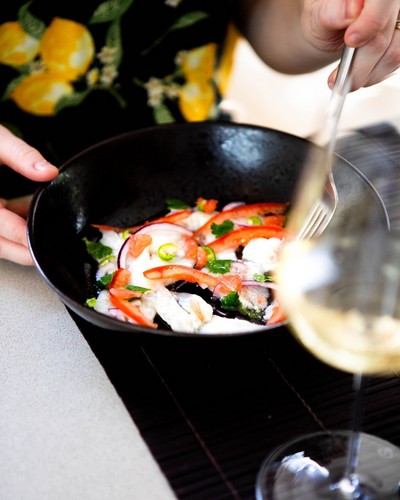 The author of this recipe