Simmental beef with clams and basil
Does combining meat with seafood seem strange to you? Well, Beatriz Gonzalez and Jean-François Pantaleon tried it, and pulled it off! And a vibrant Chablis really tops of this combination of surf and turf.
List of ingredients
Serves 4
400 g Simmental rib-eye steak
1 kg clams
40 cl white wine
2 scallions
1 clove of garlic
2 sprigs thyme
20 g Vietnamese forest pepper
20 cl ponzu sauce
2 bunches basil
50 g mushrooms
20 g mustard seeds
25 cl cream 35% fat
1 stick lemongrass
30 g ginger
6 g agar agar

Sommelier's tip

Chablis
A food and wine combination from Jean-François Pantaleon, chef at the Coretta restaurant in Paris.
"We wanted to serve a Chablis with this beef and seafood dish to bring out the liveliness and tension in this kind of wine."
1. The night before, marinade the piece of meat with the ponzu sauce and pepper.

2. Cook the clams with the scallions, garlic, thyme, and white wine, covered, for 3-4 minutes. Once they are open, set aside the flesh. Reduce the cooking liquor by one third, take 25cl of it and add it to the cream.
Cook the cream mixture for five minutes, and then add the basil, ginger, and lemongrass. Leave to infuse for 30 minutes.

3. Strain the sauce, add the agar-agar, and boil for 1-2 minutes before leaving to set in the refrigerator for 90 minutes. Blend until thick and smooth.

4. Cut the beef into small cubes, add the clams, and season.
Assembly
Slice the mushrooms using a mandoline to obtain even 1mm slices.
Place the beef and clams in a rectangular frame 9 x 4cm, filling to a height of approximately 4 cm.
Add the cream and then place the sliced mushrooms on top, with a sprinkle of mushroom seeds and a few basil leaves.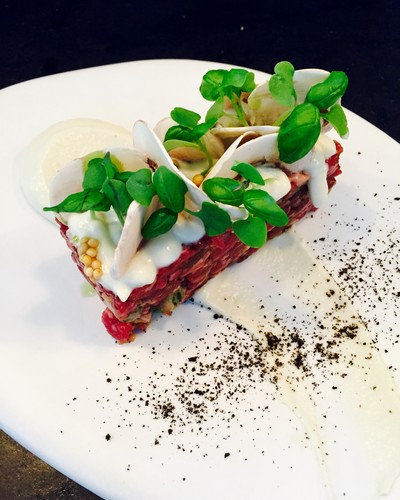 The author of this recipe
Beatriz Gonzalez, chef at the Coretta restaurant in Paris.
After leaving Mexico to study at the Institut Paul Bocuse, Baetriz Gonzalez joined the restaurant in the five-star Hotel Carlton in Cannes before joining the team of celebrated Lyon-based chef Pierre Orsi. Her first restaurant, Neva Cuisine, offers a fresh take on traditional French cuisine, and her second, Le Coretta, won the Young Talent prize from the Gault & Millau guide in 2014.
The Coretta restaurant offers a contemporary ambiance with a vibrant and sophisticated cuisine that focuses on seasonal produce. www.restaurantcoretta.com