Soumaintrain Cheese Fondant
Simple, good, and effective. Five minutes to prepare, 12 minutes in the oven, and it's done! Your entrée is ready to make mouths water and be enjoyed. Serve it with a Chablis, whose vivacity and freshness will provide perfect balance.
List of ingredients
Serves 6
275 g Soumaintrain cheese
100 g cream cheese or soft fresh cheese (very young Brillat-Savarin, for example)
40 g flour
12 g cornstarch
1 egg
1 egg yolk
150 ml whipping cream
Cayenne pepper / white pepper / salt
Polenta grains and butter for the baking molds

Sommelier's tip

Chablis
A bracing Chablis, with its lively freshness and thirst-quenching minerality, lightens the texture of the dish and makes it even more appetizing. Its notes of fruit (apple and citrus), and of fresh-cut hay, along with its refreshing nature, are very well adapted to such creamy dishes.
The extra touches of the roquette, the tomato, and the toasted walnuts balance the fondant by adding chewiness and crunch, but also add some bitter notes to that already present in the cheese fondant. The Chablis harmonizes the ensemble, stimulates salivation, and helps in chewing the garnish. Its length of finish and its tension mitigate the sourness in this dish.

Fold together the Soumaintrain and the creamy soft cheese until the mixture is soft and smooth. Sift the flour and the cornstarch, then mix into the cheeses. Whip the egg and egg yolk and blend in the cheese, then add the whipped cream. Season to taste with cayenne pepper and white pepper; adjust the salt as required.
Grease the molds with butter and sprinkle polenta in them. Fill the molds three-quarters full with the mixture and bake at 170°C for about 12 minutes (depending on your oven).
Let the molds rest for two minutes before gently extracting the fondants.
Serve with a roquette salad garnished with a few toasted walnuts and possibly tomato.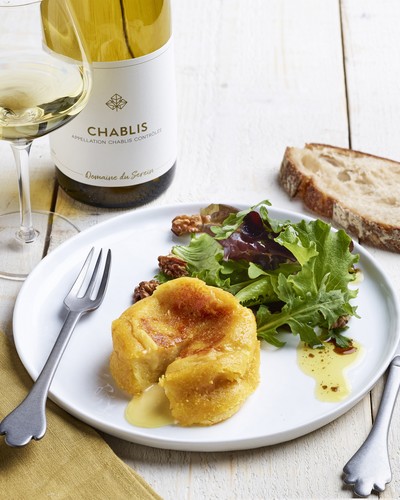 The author of this recipe
Julia Abbey, winner of the competition : Soumaintrain & Chablis, an exquisite combo
In collaboration with Soumaintrain. Discover Soumaintrain at www.fromage-soumaintrain.fr