Tomato and Mozzarella Cappuccino
Surprise your guests with this unusual cappuccino with its Mediterranean flavors that is perfect for summer. The classic combination of fresh, sweet tomatoes with creamy mozzarella is given a new twist with a zest of lemon and a parmesan crisp. Enjoy with an elegant Chablis Premier Cru from the right bank of the River Serein.
List of ingredients
Serves 2
4 medium-large ripe tomatoes
1 ciabatta loaf
1 buffalo mozzarella
1 cup of milk or cream
2 tbsp grated parmesan
Zest of 1 lemon
Basil leaves
1 clove of garlic
Olive oil
Salt and pepper
Chablis wine
Sommelier's tip

Chablis Premier Cru Montée de Tonnerre
A delicious Mediterranean appetizer combining sweet and fresh flavors. The minerality of a Chablis Premier Cru Montée de Tonnerre will be brought out by the refreshing tomato flavor and creamy mozzarella. The lemon zest enhances the wine's citrus notes while the parmesan crisp contrasts with its mellow flavors, making a perfect match.
Toast the ciabatta and cut into slices.
Peel the tomatoes and blend with the garlic, a pinch of salt, a twist of pepper and a spoonful of olive oil. Add the tomato mixture to the verrines.
Dice the mozzarella and blend with the milk or cream. Whip if the mixture isn't fluffy enough. Add the lemon zest. Turn on your oven, and divide the grated parmesan into two piles on baking parchment, leaving space between the two. Place in the oven until golden. Place the slices of ciabatta in the tomato puree and pour the mozzarella cream on top. Decorate with a twist of pepper and a little basil.

Add the parmesan crisp and enjoy!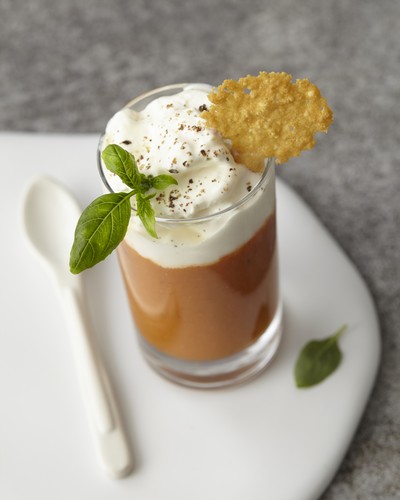 The author of this recipe