Two Trout Millefeuille
Discover a new take on a millefeuille with this recipe featuring the delicate colors of trout. Both cooked and smoked, the fish is the star of the dish, rendered divine by some crisp pastry. A young Chablis makes a perfect partner.
List of ingredients
Serves 4
200 g fresh trout filets
100 g smoked trout filets
4 tsp trout caviar
1 roll puff pasty
1 tsp salt
A few drops of soy sauce
1 pinch of paprika
10g softened butter
¼ of a green apple
A splash of lemon juice
150 ml liquid cream

Sommelier's tip

A young Chablis
This millefeuille is wonderfully simple and sophisticated. The crispness of the pastry provides a foil for the melting texture of the fish. In terms of flavors, the acidity of the apple balances out the smokiness of the fish. The minerality and freshness of a young Chablis would make the perfect accompaniment for this dish.
Preheat the oven to 230°C (gas mark 7 or 8).
Place the puff pastry on a sheet of greaseproof paper on a baking sheet. Lower the oven temperature to 180°C (gas mark 6) and bake the pastry. After three to five minutes, it will start to puff up. Place a grill on top and continue cooking for 12-15 minutes. Leave to cool.
Meanwhile, remove the bones from the fresh fish and cut into 2mm slices.
Bring some salted water to a boil in a saucepan. Cook the fish for 30 seconds, and then remove and place on absorbent towels. Leave to cool.
Roughly chop the smoked trout, place in the bowl of a food processor with the soy sauce, paprika and softened butter. Blend until smooth.
Cut eight 9x3cm rectangles of puff pastry using a bread knife. Wash the apple but don't peel. Cut a quarter of the apple into 1mm julienne strips and season with lemon juice.
Whip the cream and gently fold into the smoked trout mixture. Place in a piping bag with a 4mm smooth or ridged nozzle.

Assemble the millefeuilles by placing a rectangle of pastry on a plate, adding a layer of whipped trout cream, a few trout eggs and some strips of cooked trout. Repeat once.
Decorate the top with a few trout eggs and the strips of apple.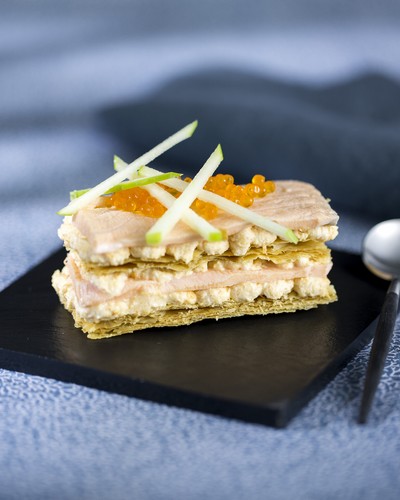 The author of this recipe
Recipe from the Comité Interprofessionnel des Produits de l'Aquaculture (CIPA). You can find it and plenty of others at www.atelierpoisson.fr