A symphony in four movements to describe Chablis
It may seem that Chablis is easy to apprehend: a single color, a single grape variety, just dry white wine from the north of Bourgogne. This apparent simplicity masks a great diversity, as each appellation, from Petit Chablis to Chablis Grand Cru, proclaims its own distinct personality.
Chablis Symphony was inspired by the desire to (re)discover in a new way the diversity and the singularity of the wines of Chablis.
The Bourgogne Wine Board invited the Japanese composer Shōtaro Matsunami to express in music the emotions and sensations which he felt in tasting the four Chablis wine appellations.
Settle yourself comfortably with a glass of Chablis at hand and let yourself be transported by this unique sensory experience!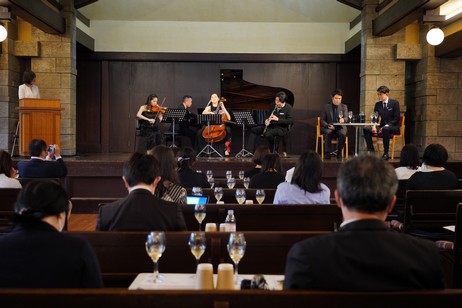 The resulting Chablis Symphony for Quartet is a suite of four independent movements, each of which refers to one of the Chablis appellations, but which display an artistic unity when heard together. "What interested me was to confer to each appellation a distinctive character. I wanted the piece to proclaim that it was about Chablis" says Shōtaro Matsunami. And he adds: "I chose violin, cello, clarinet, and piano in homage to the French composer Olivier Messiaen. His masterpiece Quatuor pour la fin du Temps is structured by these four instruments.

In the symphony, the principal instrument changes according to the appellation. The violin reflects the youth and passion of Petit Chablis. The more classical piano corresponds to the Chablis appellation. The sweetly melodic clarinet expresses for its part the clean, rich, and supple nature of Chablis Premier Cru wines. Finally, the tone becomes deeper with the cello, the principal instrument in the final movement dedicated to Chablis Grand Cru.
CHABLIS IN SOUNDS AND IMAGES
The Chablis Winegrowing Region Seen From the Sky: Come on board for a trip around the north of the Bourgogne region
The wines of Chablis explained by Lyne Marchive, winemaker in Chablis
Why location matters for Bourgogne wines? Interview of Louis Moreau, winemaker in Chablis
Chablis terroir explained by Jean-Philippe Archambaud, former Head of the Maison Simonnet-Fèbvre in Chablis
Listen to and look at Chablis through the seasons