OCEANIC AND CONTINENTAL INFLUENCES
The vineyards of Chablis are located in the northern part of the Bourgogne winegrowing region, close to Champagne, in a northerly zone. The climate is often described as semi-continental, with a long, hard winter and a hot summer, but it is, in fact, quite tricky to classify. In general terms, the climate of the Yonne department enjoys an oceanic influence, but it has some major disparities, nonetheless. According to Raphaël Roth, Manager of the Météo 89 weather forecasting service, "The climate of the Chablis winegrowing region is unique, but it could be described as a modified oceanic climate. One needs to go to Tonnerre or Avallon, which are just a few kilometers away, to find a semi-continental climate."
The modified oceanic climate is one of the five main types of climate in France. It covers the Paris basin and extends towards the south of the country. The oceanic influence is clear to begin with, but is much less intense than in coastal areas. Moreover, it is also subject to continental influences from Eastern Europe. As a result, there is less rainfall and the winters are harsher and summer hotter than with an oceanic climate. (Source: blog.univ-angers.fr). This translates to annual rainfall of between 650-700 millimeters.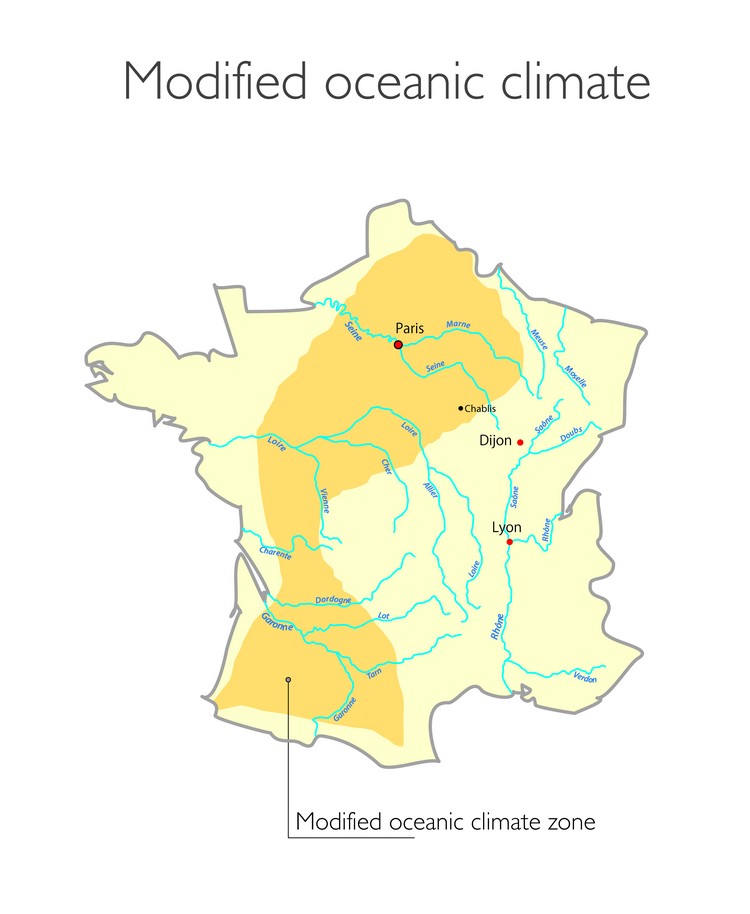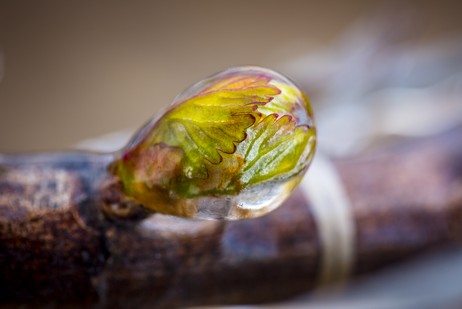 The fall season is characterized by fine weather in September that is often dry and sunny. Cooler night-time temperatures can fall to 5°C, compared to highs of up to 30°C during the day. Rainy spells can also occur during the ripening season. Vintages vary according to these phenomena each year, and it is often said that September makes the wine.
Spring frosts are characteristic of this region. Over time, and having suffered major losses some years, winegrowers have learned to manage these climate events.
In 1959, heaters for use in the vines were first adopted. Today, to help protect their crops against the frost, a range of methods are used, including candles, heated cables and anti-frost fabrics, along with spraying of certain plots of Chablis Premier Cru and Chablis Grand Cru vines. The spraying technique, as the name suggests, involves spraying the vines with water, which freezes around the buds, forming a protective cocoon that maintains the temperature at 0°C. One might call this an igloo approach!
Spring frosts can be disastrous for some plots. Says Chablis winegrower Jean-Paul Droin, "1945 was a terrible year: My grandfather had bought his first electric press and he didn't get to use it. All the vines froze on the night of 1 May. And in 1957, he only declared one hectare of Chablis Grand Cru."
VINTAGES WITH HARSH WINTERS
1981, 1984, 1985, from 1989 to 1991, 1994, 1995, 1997, 2001, 2002, 2003, 2012, 2016, 2017, 2019, 2020, 2021
In each of these years, heaters were lit in the vineyards or aspersion was used.
Chablis terroir explained by Jean-Philippe Archambaud, former Head of the Maison Simonnet-Fèbvre in Chablis.