Les Beauregards and Côte de Cuissy
Les Beauregards, a flag-bearing Climat
Chablis 1er Cru Les Beauregards
One only needs to stand at the top of this Climat of Chablis Premier Cru to appreciate the view and understand the origin of its name.
It is only from inside the valley that Les Beauregard shows itself, on the left bank. From the first glance, the way its slope directly faces the sun is quite impressive. Despite this rather southern exposure, Les Beauregards remains a cool Climat due to its topography and its location at the bottom of the valley. The clay soils are shallow and the limestone marl never far away. Its stony and well-draining soil facilitates the circulation of water.
Les Beauregards is a flag-bearing Climat on the left bank that encompasses the Climat of Côte de Cuissy. Together they cover around 20 hectares.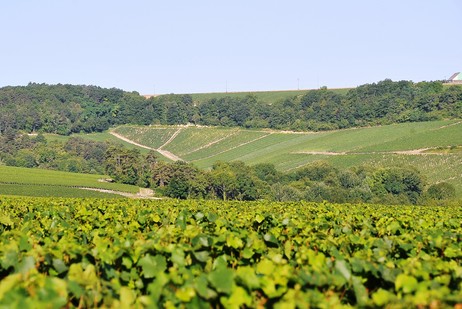 Character, stories and legends
The hallmark of Les Beauregards is honesty. The wines are forthright and lively, with a beautiful minerality. Pleasant in their youth, the wines from this Climat are an ideal introduction to learn about the intrinsic qualities of Chablis wines.

In the glass, the marriage of Kimmeridgian marls with stonier soils is readily apparent.

In order to understand the origin of the name of this Climat, no need to go through the archives — just take a look at the surrounding landscape.

The exceptional view facing the Climat of Les Beauregards explains its name! From the top of the vineyard there unfolds a majestic landscape of vineyards and hills. Locally, there are numerous names of lieux-dits with the same meaning, such as "Belle vue" or "Beauvais".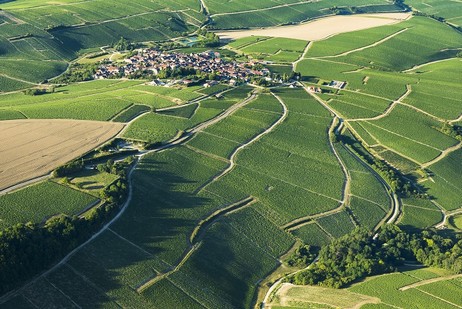 Chablis 1er Cru Côte de Cuissy
This Climat's name simply comes from an ancient hamlet that used to be at the bottom of the valley.
Côte de Cuissy falls under the flag-bearing Climat of Les Beauregards, its neighbor on the left bank. Nestled at the bottom of a small valley, these are the two Climats furthest from Chablis. Côte de Cuissy distinguishes itself by its cool temperatures and natural ventilation. Some very beautiful Kimmeridgian marls can be found in the subsoil, while on the surface lie shallow clays, as well as the stony "petites terres" (thin earth), so characteristic of Chablis.
Character, stories and legends
The first term that comes to mind when describing Côte de Cuissy is forthright. The wines are direct, cheerful and infused with that stony minerality typical of Chablis. Because of their fruity aromatic character, these wines can be enjoyed young. However, Côte de Cuissy will need 5 to 6 years to reach its peak.
"Cuissy" was the name of a small hamlet that used to be at the bottom of the valley, between the villages of Préhy and Courgis. It derived its name from the word "cortiacu" (farm or estate).