Mont de Milieu, a flag-bearing Climat
Chablis 1er Cru, Mont de Milieu
Historically, this hill used to have a boundary running through its middle, separating the county of Champagne and the duchy of Burgundy.
Mont de Milieu lies on the side of a hill that is protected from the North winds by woods. This Climat is sun-drenched from morning to night due to its south and southeast exposition and moderate, regular slopes. Facing the valley of the Serein, especially wide in this area, Mont de Milieu is quite imposing, open and airy.
This Climat is often described as homogenous: on its 44 hectares, limestone clays and small white limestone stones come together in perfect harmony.
Like Vaucoupin or Vau Ligneau, it is a flag-bearing Climat of the right bank that does not encompass any neighboring Climats.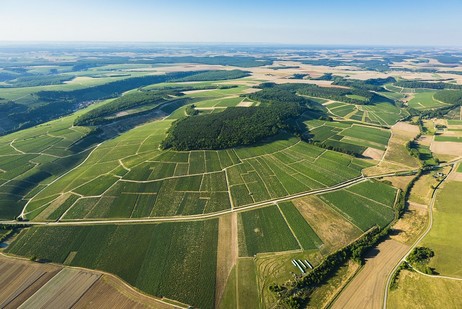 Character, stories and legends
The word that best describes the Climat of Mont de Milieu is probably 'sun-drenched'. The combination of an optimal exposure and a homogeneous Kimmeridgian subsoil brings complexity to the wines. Mont de Milieu is powerful, dense and intense as well as elegant and pure. Although it may be slow to develop in its first years, it reaches its peak after ageing 10 years or more.
Spelled "montmelliant" in 1218, and then "Mont de Milleux" a century later, Mont de Milieu is now pronounced "Mont de Miyeux". Why the insistence on dividing this Climat in two? Simply because of a political boundary. The hill of Mont de Milieu marked the border between the jurisdiction of Chablis (in which a lord or a town had special rights), that used to be part of the County of Champagne, and that of Fleys, which belonged to the Duchy of Burgundy.