Montmains, Forêts and Butteaux
Montmains, a flag-bearing Climat
Chablis Premier Cru Montmains
From the word "Montméen", the name of Chablis Premier Cru Montmains refers to a medium-sized mountain that is lower than two surrounding peaks.
As a flag-bearing Climat, Montmains encompasses itself as well as the Climats of Butteaux and Forêts. Together, they cover approximately 118 hectares. With its southeast and northeast exposure, this long and narrow Climat enjoys the early morning sun. Open to the wind, Montmains is colder than other Climats. Its trademark? A later harvest.
In terms of geology, this Climat is characterized by the presence of Kimmeridgian marls, sometimes massive under the clays. On the surface, these clays are mostly shallow and can sometimes take on a brown or dark red color.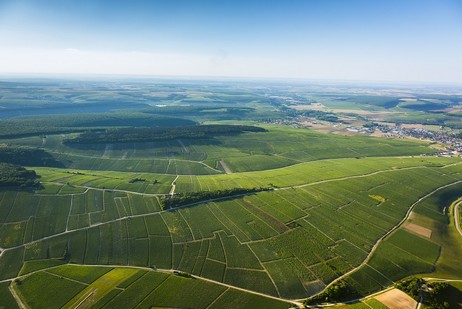 Character, stories and legends
Although modest at first, Montmains reveals itself over the years. In the glass, the duality between morning sunlight and a windy terroir is expressed through an intense aromatic strength and a rather sparse minerality. Lively and crisp, these wines are narrowly delineated and slightly closed in their youth. They start to open up after 3 years and go on to reveal their full complexity after 10 years. However, across this flag-bearing Climat, Montmains is definitely the easiest to enjoy. Forêts tends to be more robust and Butteaux more mineral.
As early as 1537, several spelling variations were used for this Climat, such as "Montméen" or "Montmoyen". The name Montmains simply describes a medium-sized mountain that is lower than two neighboring peaks.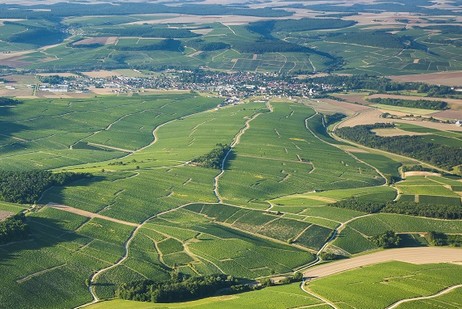 Chablis Premier Cru Forêts
Before it was cleared, this Climat of Chablis Premier Cru used to be a forest, which makes this name very appropriate!
Typical of the left bank, Forêts' south and east exposure provides some exceptional sunlight: the grapes can take all the time they need to ripen. Rather flat at the bottom, Chablis Premier Cru Forêts turns into a steep slope towards the top of the hill. Like many Climats of Chablis, Forêts has a marly Kimmeridgian subsoil that is identifiable by the millions of fossils in the shape of tiny oysters. On the surface, this shallow slab is covered by stones and clay, making the soils poor and thin.
Forêts is one of the three Climats included under the flag-bearing Climat Montmains.
Character, stories and legends
Sitting between Montmains and Butteaux, Forêts is often neglected. This Chablis Premier Cru, however, keeps a card up its sleeve: its terroir, simultaneously fresh and sun-drenched, is actually quite close to the Grand Cru Blanchot. Its obvious accessibility, enhanced by an intense fruitiness, is tempered by its tense, more or less full-bodied structure. Balance and minerality; Forêts bears the hallmarks of the poor Kimmeridgian soils of the left bank. Its natural acidity brings its ageing potential to 5 or 8 years.
One thing is certain – the name of this Climat of Chablis Premier Cru refers to a forest. The word "forest" was used as early as 1367, even though the vines had already taken over from the trees. As often the case in French, the "es" of "forest" was later replaced by "ê".
Chablis 1er Cru Butteaux
Since "butte" means "the top of a hill", then Butteaux is a perfect description of the location of this Climat of Chablis Premier Cru.
One only has to look up the hill to see the Chablis Premier Cru Butteaux. Proudly perched on its hilltop, exactly where the altitude is at its highest, this Climat overlooks its neighbor Forêts. Butteaux benefits from good weather conditions: with slopes facing south and east and a good ventilation, it provides the grapes with the perfect terroir for an easy ripening. In the subsoil, the Kimmeridgian marls are quite shallow and characterized, in places, by large blocks. On the surface, white and blue clays with large stones facilitate soil drainage.
Butteaux and Forêts both belong to Montmains, their common flag-bearing Climat.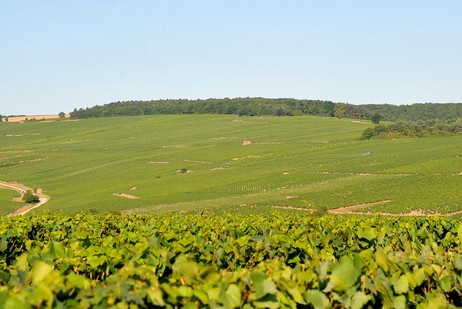 CHARACTER, STORIES AND LEGENDS
Enjoyable and pleasant, the wines from the Climat of Butteaux have the same fruity maturity as their neighbors on the left bank. However, the shallow soil and the cooler microclimate bring an intense minerality with flinty notes, giving strength and tension to these delicious and generous wines, and providing them with a significant ageing potential. After 8 or 10 years, they still have a wealth of stories to tell...
As is so often the case in Chablis, the origin of the name of this Climat has several conflicting theories. Certain etymologists believe the name Butteaux refers to an "inhabited place" or "farm"; an unlikely explanation given the location! Only shelters made from dry stone like winegrowers' shelters could have been built here. The real explanation might stem from a German dialect, where the word "but" meant "root", in which case Butteaux would suggest a cleared forest. The locals, however, tend to be more pragmatic: the word "butte" (the top of a hill) is a perfect description of this Climat's location. As simple as that!