Chablis Grand Cru Valmur
A Climat of the Chablis Grand Cru appellation, Valmur takes its name from walls and brambles.
Valmur is one of the seven Climats of the Chablis Grand Cru appellation, covering 10.5 hectares. Shaped like an amphitheater, it enjoys an exposure going south to west. Because of this particular shape, it soaks in the sun during the hottest hours of the day. An area facing northwest adds a fresh quality, as well as a later maturity. Sitting on Kimmeridgian marl, the soil does, however, show some disparities — the soil at the bottom is deep and brown, while the soil higher up is thin and white. At the top of Valmur, the marl outcrops.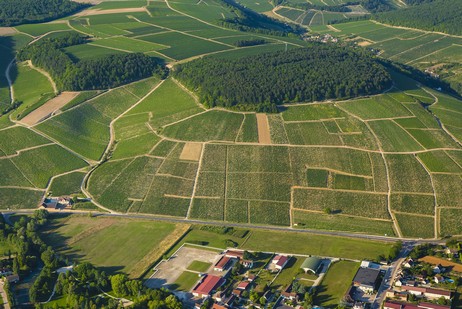 Character, stories and legends
The Climat of Valmur has a double personality, constantly juggling between remarkable freshness and a distinctive sun-drenched quality. This duality, as well as strength and complexity, define its character. Sun-drenched, mineral, persistent, and austere (especially in the first years) — Valmur shows perfect balance, with an aging potential reaching 10 to 12 years.
Valmur has been around for quite some time, as vines have been growing here since 1233. Spelled "vallemeur" in the 16th century, this name has two possible origins. Either it comes from "vallée aux meures" (valley of brambles), "Meures" or "Meuriers" (brambles), referring to the brambles that once surrounded some of the vineyards. Or it might come from the word "meurs" or "murgers" (walls), constructed to outline a property or formed at the edges of the plots by piles of stones. Either way, it takes its name from its environment.