Vaucoupin, a flag-bearing Climat
Chablis 1er Cru, Vaucoupin
In the past, the valley of Vaucoupin was probably forested.
In Chablis, Vaucoupin sees life through white-tinted glasses. From a distance, it looks like an ocean of white limestone, blanketed in some places by dry white clay. Tillage is quite challenging due to shallow Kimmeridgian marls, so patience is crucial in taming this vast terroir. Nestled on the right bank of the Serein, in the township of Chichée, Vaucoupin stretches over 45 hectares and is quite discreet: it is only accessible by small roads through the vineyards which keeps it safe from visitors. As one gets closer, Vaucoupin reveals three faces: a delicate gently sloping plateau, steep hills and a valley. Facing south and west, Chablis Premier Cru Vaucoupin is in full sun. Although this warm terroir allows the vine to reach beautiful maturity, it is also demanding, especially in drier years. Yields are generally low due to the draining soils, sun exposure and strong wind.
Vaucoupin is a flag-bearer, but like Mont de Milieu or Côte de Léchet, it does not have any secondary Climats.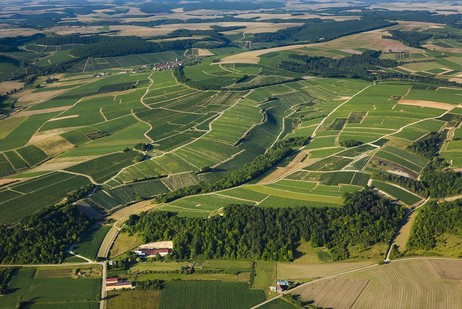 Character, stories and legends
Vaucoupin has the charisma of all great Chablis: freshness, volume, structure, chalky minerality and sometimes a slight saltiness. Always a little discreet and moderate in its youth, it reaches its full potential after a few years. Its mineral structure and its compelling acidity help it age for 10 years if not more. Its astonishing youth surprises as much as it delights for years to come.
Two stories intertwine and compete: for some, Vaucoupin could mean 'vallée coupée', (cut valley) divided between several different owners. For others, this Climat could also have belonged to the Copin family...