Chablis Grand Cru Vaudésir
Such a charming name for a Chablis Grand Cru that has always had this name.
Vaudésir is one of the seven Climats of the Chablis Grand Cru appellation. Nestled in a natural amphitheater, it covers 15.4 hectares. It benefits from a double exposure similar to that of Valmur.
The south-facing slope, which lies in a small sheltered valley, provides optimal ripening conditions.
The north-facing slope, however, is cooler and the grapes often mature later. Here more than anywhere else, the orientation of the vineyards plays a key role in defining the style of the wines.
Another characteristic of Vaudésir? Its soil contains a significant amount of clay. The subsoil remains classic, however, with Kimmeridgian marly limestone.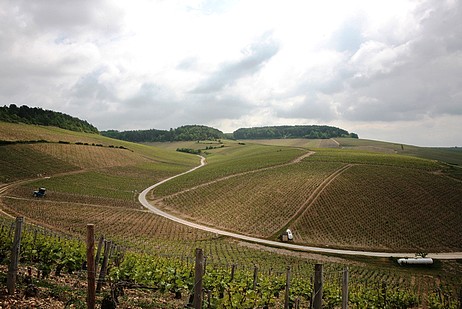 Character, stories and legends
"Opposites attract" could be the motto of this Chablis Grand Cru. Vaudésir proudly displays its complexity; elegance and power intertwine to reach a climax. Two wonderfully compatible qualities that reflect the unique setting of this Climat, cool on one side and sun-drenched on the other. In keeping with its neighbors of the Chablis Grand Cru appellation, Vaudésir needs to sit a few years, with an aging potential easily reaching 6 to 10 years.

"Vaudésir… sont des ordres" (your wish is our command). Such a charming name captures one's attention! In the 15th century, this Climat was called "vau daisey", later spelled "vau daisy", "valdesay" or "valdaisay". In Old French, the word "hait" means hope, wish or desire, making the evolution quite simple, from "val des haits" to "vau des haits" to "vau désire". Written evidence of the name Vaudésir goes back to 1770.

Another explanation, a little less glamorous, refers to some families named Desay that grew vines here in the Middle Ages. "Vallée des Desay" would then have become Vaudésir ...