Vosgros and Vaugiraut
Vosgros, a flag-bearing Climat
Chablis 1er Cru Vosgros
A flag-bearing Climat with Vaugiraut under its banner, Vosgros is a sun-drenched Climat in a cool valley.
Lying south of the village of Chablis, on the left bank, Vosgros is a flag-bearing Climat encompassing its neighbor, the Climat of Vaugiraut. Facing as it does the south and southwest, it benefits greatly from exposure to the sun. While its sunny character is nuanced by its natural position, its amphitheater shape has the advantage of protecting it from the winds.
Vosgros is therefore slower to mature in this cool valley. Its limestone soil, with some stone outcroppings, is typical of Chablis. The soil at the top is slightly different, as it gets a little deeper.
Together, Vosgros and Vaugiraut make up 22.5 hectares.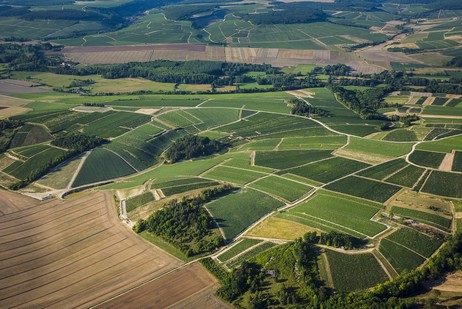 Character, stories and legends
Its unusual position and limestone-rich soil give Vosgros a distinctive character. It balances between warm and cold, between a sun-drenched exposure and a cool valley. This round and generous wine is also crisp and perky with a subtle freshness. Sometimes considered rustic in its early years, Vosgros will reveal its generous and seductive quality over time.

As often in Chablis, several versions coexist. Some stem from a family called Gros that owned land in this valley. Others refer to "grande et grosse vallée" (big valley) or the "vallée creuse" (hollow valley), "Vosgros" by contraction. A tip to sounding like a connoisseur — pronounce the first S!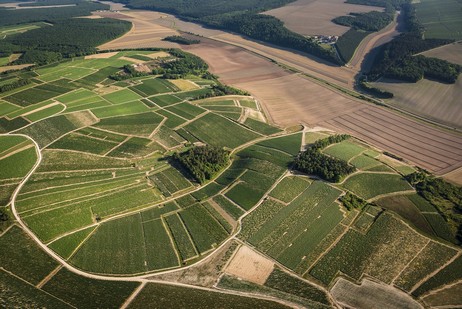 Chablis 1er Cru Vaugiraut
Although sitting on the left bank, this Climat has almost all the characteristics of the right bank. An exception not to be missed.
Vaugiraut is a small Climat on the left bank belonging to the flag-bearing Climat of Vosgros.
Exposed to the south and the west, it soaks in some beautiful late afternoon sun. Open and well ventilated, it provides the grapes with excellent ripening conditions. Mostly limestone, the soil is covered in very white stones. It is deeper at the bottom of the vineyard due to the colluvial deposits
Character, stories and legends
While located on the left bank, the Climat of Vaugiraut possesses almost all the characteristics of the right bank: a powerful and persistent minerality, moderate acidity and a remarkable aromatic strength, giving it a very seductive elegance. This Climat is very Kimmeridgian, structured and aromatic. Despite being sometimes a little reserved in its first years, it reveals its full potential after ageing 5 to 8 years.
Along with seven other Climats in Chablis, Vaugiraut starts with the prefix "Vau", which in most cases refers to the word "vallée" (valley). Written evidence of Vaugiraut goes back to 1537, spelled "vaul girault" at the time. The word "Giraut" most likely stems from a family called Girault or Giraut that owned land in this valley.