Wines and culinary specialties from the Chablis region
The Chablis region is full of French gastronomic treasures. In the Bourgogne region, Chablis wines are often served with local artisan products. Here are a few examples: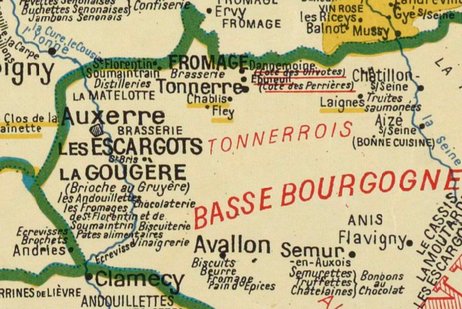 LES GOUGERES
The gougère, this small and savoury choux pastry with cheese, is a key dish in Bourgogne. It is during the 19th century in the village of Flogny-La-Chapelle, in Yonne, that it was supposedly elaborated by a certain Liénard. When this Parisian pastry chef came to the department to settle in, he would have adapted the ramequin recipe, another famous pastry at the time, to create the gougère. It was initially crown-shaped, but it evolved with time and became the choux pastry we know today. Traditionally with gruyere or comté, the perfect gougère is fluffy and light: crispy outside but melting inside. It goes wonderfully with Chablis wines for an aperitif with family or friends.
LE JAMBON A LA CHABLISIENNE
Le Jambon à la Chablisienne was created during the first half of the 20th century by a local pillar of gastronomy, Charles Bergerand, the great-grandson of the Master Sauce Chef of King Louis Philippe. This dish is composed of a whole ham cooked on the bone in Chablis with added flavorings. The sauce, which gives the dish its character, is enriched with a concassé of tomatoes and shallots. The ham was originally served with fresh noodles and spinach.
The tomatoes bring texture and a touch of freshness to the dish. To match the flavors, a Chablis aged between 3-5 years brings a tension and a touch of body to the recipe.
LE JAMBON PERSILLE

Typically from Bourgogne, the jambon persillé was created during the 14th century in the Côte d'Or department. It was initially made for the Easter festivities with a ham kept all winter in a salt pot. According to the tradition, the ham is cooked in a stock seasoned with parsley, garlic, vinegar and of course, white wine. The ham is then roughly chopped and set in a jelly made from the stock. Nowadays, the jambon persillé is eaten all year long in Bourgogne and it goes perfectly with Chablis wines.
LES ANDOUILLETTES DE CHABLIS
Les Andouillettes de Chablis are a key dish in the culinary heritage of Chablis. Andouillette, a variety of chitterling sausage, is made from pork intestine and is usually pan-fried or simmered in Chablis. It has a melting texture and pungent flavor.
For around a century, this dish was rarely found outside Chablis, but since the 1970s has been restored to its former glory by talented local artisan butchers in the region.
This dish, with both spicy and grilled flavors, calls out for a rich wine with depth. A Chablis Premier Cru aged 6-8 years would fit the bill perfectly, bringing fruity, nutty notes. A Chablis Premier Cru Côte de Léchet or Beauroy would be ideal. Others might suggest a younger, more tense Chablis to cut through the spices and refresh the palate.
L'OEUF EN MEURETTE
Oeufs en meurette is another traditional dish from the Bourgogne region. "En meurette" means the eggs are poached in a wine sauce. The original recipe calls for this to be made from red wine, bacon and shallots fried in butter. There is, however, a delicious variation using Chablis wine.The eggs are often served on slices of fried bread, dressed with the sauce.Oeufs en meurette offers a combination of flavors and textures. It is velvety but with a bite, and is rich and delicate.
A Chablis Grand Cru Bougros would bring roundness to the dish, whereas a Chablis Grand Cru Blanchot would be more forthright and light. The ideal would be to compare the two by opening wines aged between 8-12 years.
LOCAL DESSERTS
Le Biscuit Duché is a sweet, dry and somewhat hard cake, born from the imagination of Mr. Duché in the 1820s. It makes no crumbs and is perfect served with Chablis wines.
Les Piliers de Chablis are white chocolate shells filled with praliné ganache and grapes macerated in Marc de Bourgogne.
Le Chablisien is a cake, composed of a sponge covered with a layer of hazelnut meringue topped with a praliné chocolate cream and sprinkled with raisins macerated in ratafia with another layer of sponge on top.
Chablis and Soumaintrain
The villages of Chablis and Soumaintrain are just 30km apart.
Chablis wines and Soumaintrain cheese share both a territory and a destiny that is closely linked to water.
Soumaintrain is located in a lush region of grassy plains with damp valleys leading off them. And it is this moisture that makes the pasture so rich. While the character of Chablis vines is closely linked to the ocean that covered the region 150 million years ago. It was during this period that the unique Kimmeridgean subsoil was formed, with its characteristic myriad tiny oyster fossils.
Halfway between the two villages, the Cistercian Abbey of Pontigny is another element common to the history of both Chablis wines and Soumaintrain cheese. The monks were responsible for the development of the vines and equally, the growth of cheesemaking, at a time when farmers paid their tithes to the clergy in aged cheeses.
These historic links alone do not explain the wonderfully complementary flavors of Soumaintrain and Chablis. One simply has to sample them together to fully grasp the perfection of the pairing.
Indeed, this has motivated the two producers' unions to promote the partnership between these two marvels of the Bourgogne terroir with all lovers of fine wines and cheeses.
Soumaintrain is a cow's milk cheese with a soft, washed rind and sophisticated white color.
In the mouth, it is unctuous with a certain vigor for a short-aged cheese. It offers a sophisticated texture with a hint of acidity, its whole-milk flavors rapidly giving way to a lovely aromatic intensity that is rich and complex with the strong flavors that are characteristic of washed-rind cheeses. Complex aromas ensure good length in the mouth.
Although many consumers are still unconvinced, white wine is an ideal partner for cheese. The vigor of Chablis wines acts as a counterpoint to the creaminess of the cheese and underscores it light acidity. Together, they make a harmonious pairing with neither dominating in the mouth. With less powerful Soumaintrains, a Petit Chablis or a Chablis would make an ideal partner. For longer aged cheeses that are more expressive and characterful, serve with a Chablis Premier Cru or Chablis Grand Cru.
For more information, go to www.fromage-soumaintrain.fr