The hilly landscape around Chablis, with its vineyards and forests, offers a wonderful place for hikers to explore.
Start out at the viewpoint indicator at the Aire des Clos overlooking the Serein Valley to locate the different appellations. To get there, head for Tonnerre and turn left at the Sentier des Clos footpath, a small track just before the D35 road (heading for Fyé and Collan). There is parking there for cars and coaches. This viewpoint indicator is the point of departure for several hiking trails through the vines.

Circuit des Grands Crus de Chablis
New in 2011, these two simple trails are perfect for families. Clearly signposted, they both leave from the Tourist Office and take 60 or 80 minutes respectively.
There are a wide range of other trails in the Chablis area ranging from 8 - 33km.
The Grands Crus trail
8 km – IGN map 2720 East – Leaving from the Air des Clos. This relatively easy trail overlooks many of the Grand Crus and gives a quick glimpse of the Chablis landscape with its vineyards and forest paths.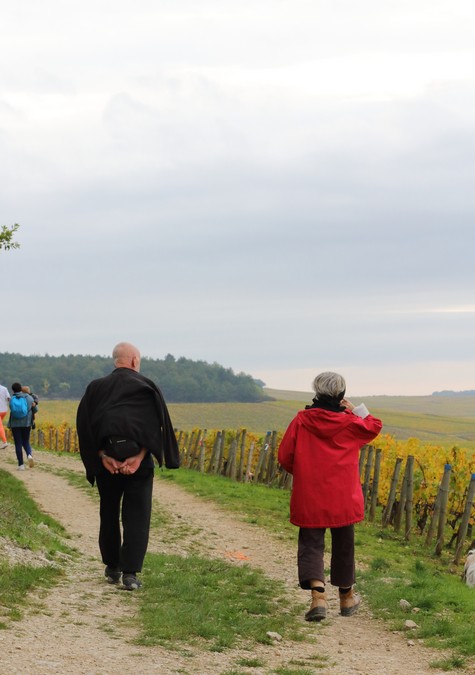 The Croix Duché trail
12 or 19 km – IGN map 2720 East – Leaves from La Croix Dûché, rue des Butteaux. Rising up to the highest parts of the Chablis winegrowing area, this trail offers an extensive panorama over the vines, and goes through many old villages including Courgis, which has existed since Roman times, and Préhy, which was destroyed in 1562 and reconstructed a short distance from the original site.
The Gueux trail
14 or 27 km – IGN map 2720 East – Leaves from Avenue de l'Europe. This trail provides a picturesque view of the vines and villages of Chablis, passing by some of the most famous Premiers Crus including Les Lys, Vauligneau and Beauroy.
The Clos trail
13, 17 or 24 km – IGN map 2720 East – Leaves from the Aire des Clos. This path will show you some of the treasures of the Chablis area including the 12th century chateau in Maligny, and one from the 17th century in Poinchy, as well as a clutch of other beautiful villages like Fontenay.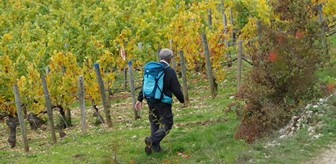 The Retif de la Bretonne trail
Sacy-Courgis 23 Km – Sacy-Courgis 23km – IGN maps 2720 and 2721 – Leaves from the village of Lichères. Get to know all about French 18th century novelist Nicolas Rétif de la Bretonne who was born in the area through a host of wonderful discoveries such as woods, vines and a 13th century wash-house at La Croix-Pilate, the Bois l'Abbé farm, which started out as a 16th century sheepfold, and the Roman village of Courgis.
The Moulin des Roches trail
15.5, 23.5 or 33 Km – IGN map 2720 East – Leaves from Quai Paul Louis Courrier. This path offers a glimpse of some of the Chablis area's architectural and historical gems, including the Château de Chemilly-sur-Serein, and the Church of Saint Nicolas in Fleys. You will walk along paths through the vines and footpaths bordering the woods.
The Par Monts et Vallées trail
16, 23,5 or 24,5 Km – IGN map 2720 East – Leaves from the village of Sacy. The departure point of this circular walk starts with a wonderful view over the Serein Valley. You will have the chance to discover the miraculous source at Fontaine Saint Potention, before arriving at Lichères, a wonderful Merovingian village to explore.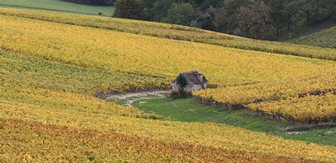 Viewpoints and orientation tables
Les Clos, Les Lys and Courgis
3 orientation tables can be found in the Chablis wine-growing area:
One is located at the top of the Grand Cru hill, in the aire des Clos (GPS coordinates 47.820653, 3.812778).
Right across sits another one, on the other bank of the Serein, at the aire des Lys (47.806111, 3.773611), offering a beautiful panorama of the Climats in the Chablis Grand Cru appellation.
The third one is in the wine-producing village of Courgis, on the road to Chitry (47.769292, 3.746371) with another stunning view of the vines.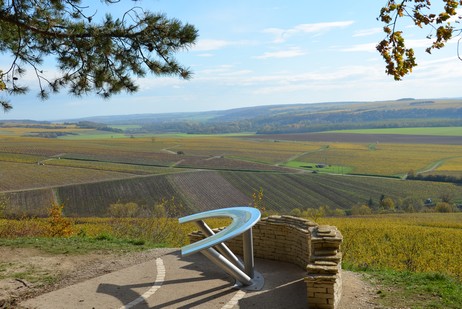 ESCAPADE BY JEEP OR ELECTRIC MEHARI LAND VEHICLE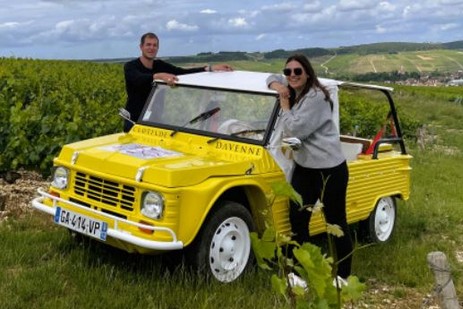 You wish to discover the Chablis wine region? The Domaine Clotilde Davenne organises two escapades:

– By Jeep, departing from the Domaine itself (located in Préhy), to discover the vineyard landscapes, followed by a wine tasting at the property
– On an electric Méhari rover, from the boutique located in the center of Chablis, to discover the Grand Crus, followed by a wine tasting

Useful information:
Price: 60€
Store: Place Charles de Gaulle, 89800 Chablis
Domaine: 3 rue de Chantemerle, 89800 Préhy
Tel.: +33(0)3 86 41 46 05
BIKING IN THE VINEYARDS
ONE UP TOUR
Feel like a getaway? ONE UP TOUR will arrange rentals of electric all-terrain scooters for unforgettable escapades accessible to all. Activities include tastings at partner vineyards, discovering the local sights, and picnicking.

Solo, in a group, or with your family, on GPS-defined trails, get to know Bourgogne at your own pace, in a fun new way that is also ecological.
20 route d'Auxerre - 89800 Chablis
Tel : +33(0) 6 79 95 51 75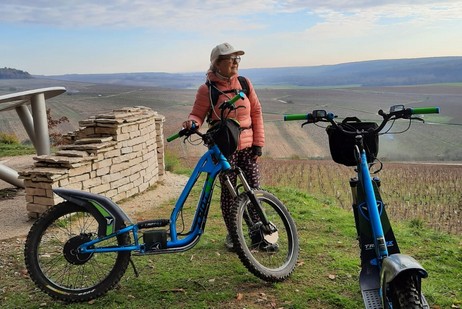 Biking in the vineyards
E-bike wine tours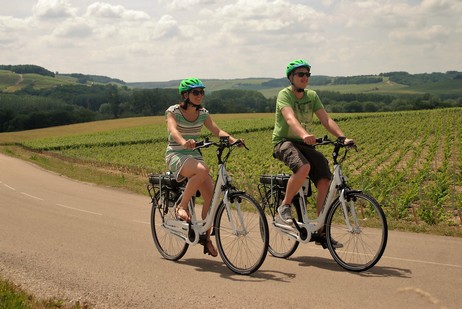 Would you like to discover the Chablis wine region by electric bicycle or scooter? Dominique and Béatrice Lampaert rent e-bikes and scooters by the half-day or day. You can choose from one of seven itineraries which they have designed to take in the best panoramas and notable points of interest in the Chablis and Grand Auxerrois region. And you can taste the wines from the vineyards you ride through by calling in at the various partner wine estates.
Contact: Dominique and Béatrice Lampaert – 1 avenue Jean Jaurès, 89800 Chablis, France
Phone: +33 (0)3.86.18.97.12
Website: e-bikewinetours.com
Email: info@e-bikewinetours.com

Cycle Divin organizes eBike rides through the vines of Chablis to explore the history of the vineyards, the work of the winegrower, and discover everything you need to know about the region's wines. Trips conclude with a visit to a wine estate. Several tours are available, from half days to full days, tailored according to the customer's wishes and their ability. Perfect for families.
See the Cycle Divin website for more information.
Phone : +33 (0)6 14 96 76 44
Email : contact@cycledivin.fr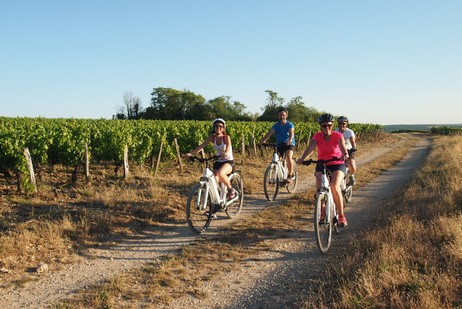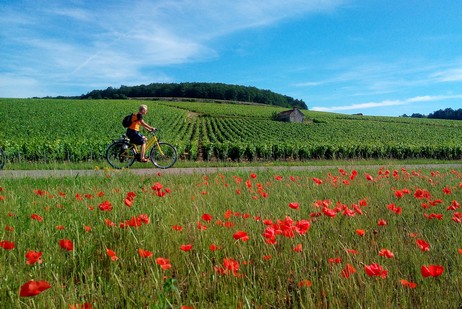 Escapade Gourmande organizes tours of the Bourgogne winegrowing region on foot and by bicycle. A range of tours are available for exploring the Chablis region, lasting from half a day to a full week. The tours are tailored to individual needs and you can find more information at www.escapadegourmande.fr.

Escapade Gourmande also has a partnership for bike hire with the possibility for one-way travel. For more information, go to www.velibourgogne.fr.
1, Place Achille Ribain 89000 AUXERRE
Phone : +33(0)6.74.38.25.73 / +33(0)3.86.41.43.22
Email : escapade.gourmande@gmail.com
France à Vélo organizes a large variety of excursions on mountain bikes with electric assist, or by all-terrain e-scooter.
Whether you're in a group or by yourself, France à Vélo arranges half-day, full-day, or multi-day excursions in Chablis and its surrounding region, with picnics and tastings.
They also offer outings of 90 minutes to 2 hours, on all-terrain e-scooters, to discover the vineyards by yourself, with the help of a pre-programmed circuit on the navigation system.
Address: 7 Rue de l'Horloge - 89000 Auxerre
Phone: +33 (0)3 86 42 35 96
Email: contact.fav@orange.fr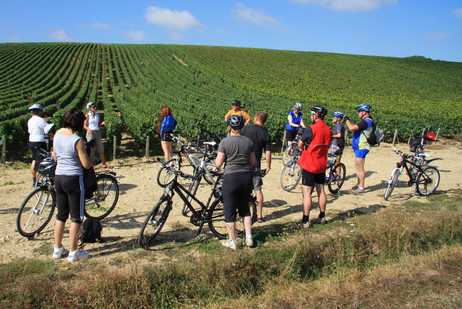 RENTAL OF ELECTRIC MOUNTAIN BIKES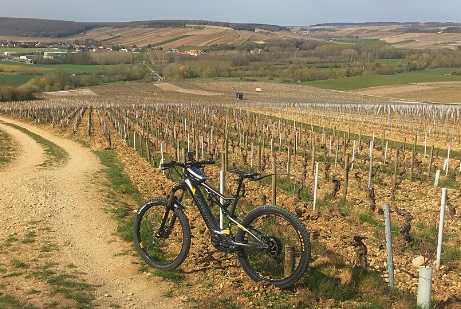 Retired butcher Marc Colin provides a rental service for electric mountain bikes. On the agenda: vineyard discovery, a light meal of cold cuts and a relaxation session.
Address: 13 rue Lavaux - 89800 Chablis
Phone: +33 (0)6 81 32 28 06
IN THE VINEYARDS WITH HORSES
A cheval dans l'yonne
Marine Darlot has a diploma in equestrian tourism and offers horseback riding tours through the Chablis vineyards.

Tours are adapted to suit everyone from beginners to experienced riders, either solo or in groups. The center is open every day from April to October. By reservation only.

Tel: +33 (0)6.32.07.72.29
Email: marinedarlot2610@gmail.com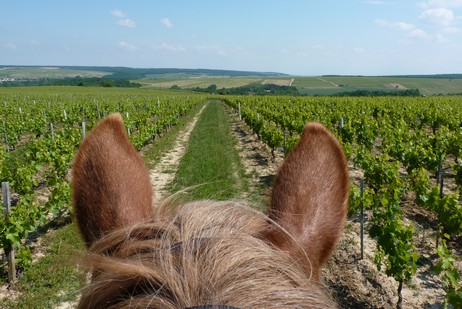 Domaine Equestre du Château de Chemilly
In the heart of the vineyards beside the River Serein, this horseriding center offers hacks and riding lessons on ponies and horses.
49 rue du Pont – 89800 Chemilly-sur-Serein
Phone : +33 (0)6.86.41.12.19
Website : www.sejour-chateaudechemilly.fr