Bucatini Puttanesca with Smoked Octopus
Have you ever cooked octopus? Give it a try with this recipe, where powerful flavours combine for great gustatory pleasure. The freshness of a Petit Chablis makes it the perfect candidate for this dish.
List of ingredients
Serves 1 :
150 g Bucatini (pasta)
75 g smoked octopus
Pomodoro sauce
6 pieces of confit tomatoes
One piece of anchovy fillet (drained), mixed with 1/2 tea spoon capers and a little bit olive (chopped) and olive oil
One glove of garlic (chopped), mixed with chili and olive oil
Basil
Salt
Olive oil

Sommelier's tip

Petit Chablis
Octopus, anchovies, basil — the powerful flavours of these ingredients bring character to this dish, while the pasta and the confit tomatoes bring softness and unctuousness. The umami quality of the octopus combined with the gentle spice notes pair beautifully with the freshness and vivacity of a Petit Chablis.
1. Put water to boil.

2. Put the olive oil in the pan and heat up the pan, put the octopus in and sear it until golden color, and put it out to rest.

3. Put the chopped garlic and chili oil in the same pan.

4. Put the confit tomato in and crash it in the pan.

5. Put the Pomodoro sauce in and boil it.

6. Cook the pasta in the boiling water for 2 mins.

7. While the pasta is cooking, put the anchovy fillet and olive in the pan with sauce and break down the anchovy.

8. Put the pasta in the pan and put the basil in, cook it around 1 to 2 mins.

9. Serve the pasta with the octopus on top.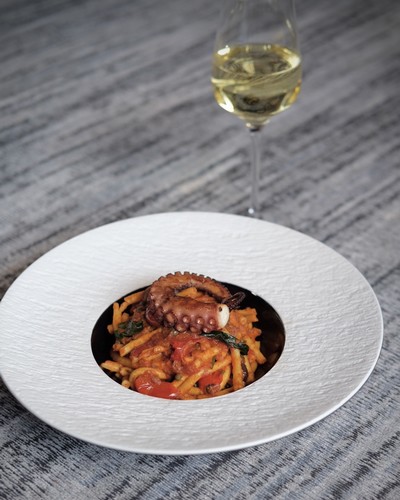 The author of this recipe