Dover Sole, Whole Roasted with Cauliflower, Capers & Lemon
A quick, easy, and tasty recipe for sole meunière – who could ask for more? Apart from a Chablis Grand Cru Valmur to provide the perfect partner to this delicate fish.
List of ingredients
Serves 1-2
1 each Dover Sole, approximately 1-1.5 lbs, cleaned
¼ cup AP Flour, for dusting fish
2 Tbsp. Extra Virgin Olive Oil
½ tsp. Black Pepper, freshly milled
1 tsp. Kosher Salt
1 cup Cauliflower, florets
1 Tbsp. Capers
1 pinch Calabrian Chiles
1 each Lemon
½ cup Chablis wine
3 Tbsp. Butter, unsalted – cold
Sommelier's tip

Chablis Grand Cru Valmur
Chablis Grand Cru Valmur combines sophistication and richness, with its mineral and fruity notes and aromas of apple and pineapple. It fully expresses itself with this original recipe in which the elegant acidity of the lemon marries wonderfully with the wine's delicate crispness, and its notes of hazelnut provide a perfect match with the golden butter crisp. Arvid Rosengren, best Sommelier in the World 2016, hails the spectacular combination of the sole with the Chablis Grand Cru Valmur, combining the complementary qualities of richness and elegance.
Heat a large saute pan on medium-high heat. Season fish with salt and pepper and dust fish with flour and pat any excess off.

Add oil and evenly cook fish on both sides until golden and cooked throughout.
Remove fish onto a rack and allow to rest in a warm area in the kitchen.
In the same pan on medium-heat, add white wine to deglaze and allow to reduce by half. Add cauliflowers, capers, chiles and add cold butter to emulsify the sauce.
Plate whole fish on a platter and finish by pouring sauce on top of the fish and serve.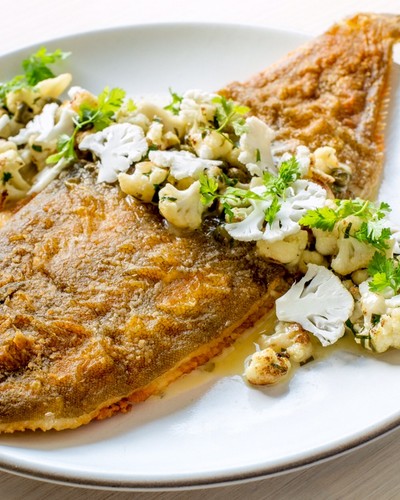 The author of this recipe
Ryan Hardy is the chef at the Charlie Bird restaurant in New York, a contemporary eatery with an Italian twist. To pair with a Chablis Grand Cru Valmur, he chose one of the most noble fish – sole – that he cooks in his restaurant in the French "meunière" style, underscored with a touch of chili and accompanied by a dish of crisp cauliflower.