Lobster roll with turnip and wild flowers
The lobster is a highly-regarded crustacean that is frequently served on holidays. On this occasion, it wears a slightly asiatic garb due to the daikon turnip. And it's a success: refinement, delicacy, crispness, all these are present to delight your guests. A Chablis Grand Cru Blanchot shows itself to be the ideal pairing for the dish, because of its subtlety and aromatic complexity.
List of ingredients
Serves 4
1 cooked lobster
2 tbsp mayonnaise
1 tsp honey
1 tsp mustard
1/2 shallot, diced
1 tbsp chopped chives
1 mooli or daikon turnip
1 handful edible wild flowers

Sommelier's tip

Chablis Grand Cru Blanchot of an older vintage
Lobster meat is one of the most refined foods, with its delicate taste hinting of hazelnuts, together with its firm texture. The daikon turnip offers a silky savour and a bit of sweetness. This calls for a strong wine pairing. The firmness and meaty texture of the lobster calls out for a wine with body and freshness. A Chablis Grand Cru, with its appetizing acidity and mature aromas, is the natural choice. A Chablis Grand Cru Blanchot, beautifully acidic, will highlight the silky and sweet savour of the daikon. It will also prove robust and elegant enough to compete with the refinement of the lobster meat.
Remove the meat from the lobster tail and claw and cut into a small dice.
Mix the lobster meat with the mayonnaise, chives, honey and mustard.
Slice the daikon as thinly as possible, longways, using a mandolin or a meat slicer.
Lay 4 daikon slices on flat surface and divide the lobster mix between them.
Roll the lobster mix up in the daikon as if making a cannelloni.
Cover with wild flowers and drizzle with a little olive oil.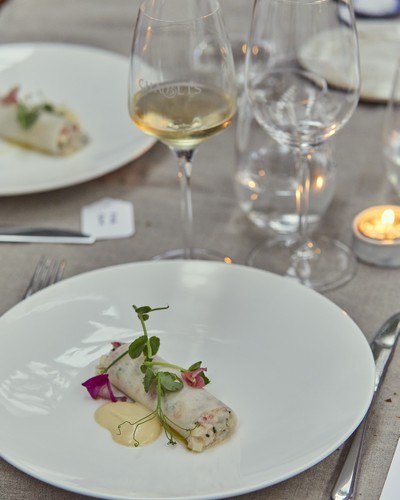 The author of this recipe
After six years working in Michelin-starred restaurants in Switzerland, France and Belgium, Merlin Labron-Johnson returned to the UK to open Portland in 2015. Nine months later, he was awarded a Michelin star at just twenty-four years old.
Merlin Labron Johnson opened a second restaurant, Clipstone, more relax and affordable in august 2016, distinguished by a Bib Gourmand from Michelin one year after opening.
After the success of his two restaurants and a team well in place, the Chef decided to spend more time for charitable causes like "help refugees". He works mainly in projects that involve feeding people.