Noble fish broth with seaweed and tapioca
Looking for a dish to showcase Asian flavors? Then this broth won't fail to delight with its extensive range of flavors brought together with skill and harmony. The aromatic complexity of a Chablis Premier Cru Fourchaume makes it an ideal partner.
List of ingredients
Serves 10
For the soup:
John Dory, turbot and cod fish bones
2 liters water
125g granulated sugar
Dried wakame seaweed
5 g long Indian pepper
5 g coriander seeds
5 g green aniseed
5 g star anise
5 g cardamom pods
5 bay leaves
½ stick of celery
1 white onion (skin left on)
1½ carrots (chopped)
2½ shallots (skin left on)
6 mushrooms
½ leek
½ head of garlic
¼ celeriac
½ orange (skin left on)
1 kaffir lime
For the garnish:
200 g tapioca
50 g raw enokitake mushrooms
50 g raw shimenji mushrooms
50 g king oyster mushrooms
100 g wakame seaweed
40 g shallots
30 g chives
50 g spring onions
150 g spinach
Olive oil
Soy sauce
Rice vinegar
Sommelier's tip

Chablis Premier Cru Fourchaume
This soup offers a rainbow of flavors, some intense and others more subtle. The wine served with it must be capable of skillfully underscoring this, and the unique character of the subtle aromas of a Chablis Premier Cru Fourchaume make it a perfect candidate.
To make the broth, caramelize the sugar in a pan without adding water until it turns a nice golden color. Add the spices and combine. Then add the fish bones and the seaweed and cover with water. Add the fresh ingredients. Cook at the merest simmer for five hours, skimming regularly. Season and then strain carefully with a chinois.
For the garnish, first, soak the seaweed in cold water for around 10 minutes. Bring some water to the boil and cook the seaweed for around 5 minutes, chop into julienne slices and set aside.
Chop the mushrooms into thin strips and chop the shallot, chives, and spring onions.
Fry the spinach in a frying pan.
Cook the tapioca for 12 minutes in boiling water, stirring regularly. Drain, rinse, and season with one part soy sauce to three parts rice vinegar. The tapioca should be loose I d D n texture.
In each bowl, place some seaweed, mushrooms, spinach, and onions. Add the tapioca and then pour the broth over the top. Finish with a few drops of olive oil.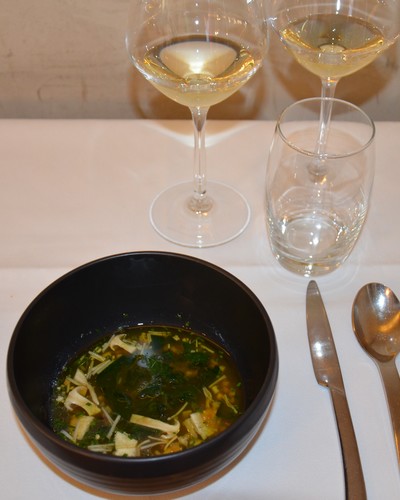 The author of this recipe