Salmon Ceviche with Lime Butter Foam and Brown Bread
Salmon is a very flexible ingredient that can be cooked in myriad ways. Kerstin Getto has developed an original recipe with a marinade and lime butter. The subtle notes of a Chablis Premier Cru Vaillons ensure a sublime experience.
List of ingredients
Serves 4
For the salmon
400g salmon fillet (sushi-style)
Zest and juice of one untreated lime
1 small red onion, finely chopped
6 tbsp. Chablis
2 tsp. honey
6 tbsp. olive oil
Salt and freshly ground pepper
Small bunch of coriander

For the butter
Zest and juice of two untreated limes
125g butter
Salt and freshly ground pepper
Small bunch of coriander
Sommelier's tip

Chablis Premier Cru Vaillons
This wine is very present on the palate, forthright and full-bodied, with depth and structure. Its subtle mineral texture in very agreeable on the tongue. It is simple, yet striking, and is a wonderful representative of a classic, premium Chablis.
Preparing the salmon
1. Wash the fish, dry carefully, and roll in food wrap. Place in the freezer for 10 minutes.
Mix the lime zest and onion with the Chablis, lime juice, honey, and olive oil. Season.

2. Cut the salmon into thin slices and arrange on a plate. Drizzle generously with the marinade. Sprinkle with chopped coriander and season with black pepper.
Preparing the butter
In a pan, reduce the lime juice with the zest and leave to cool.
Beat the butter with a hand whisk on a low speed at room temperature, mix with the lime preparation and season with salt and pepper.
Chop the coriander and add to the mixture.
Shape the butter into a log and roll in food wrap, or place in small butter dishes. Leave to firm up in the fridge.
Serve the salmon with the butter and fresh brown bread.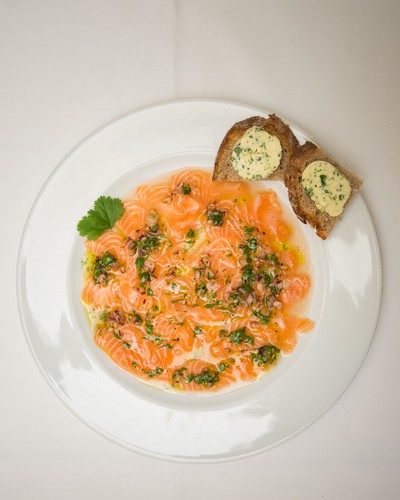 The author of this recipe
Kerstin Getto is one of the six winers of the blogger challenge organized by Chablis Wines with the german Magazine Effilée. She is an architectural illustrator. Her blog, My Cooking Love Affair, features recipes, food and wine combinations, culinary literature, and includes a "market day" section.