Seared Scallops on butternut apple cider puree with a fennel apple salad
With its refined mix of velvety softness and characterful flavors, this recipe by Robin Renken will surely please your guests. The butternut squash and the green apple render great service to the scallops, and it's a sheer delight. For a perfect accord, enjoy this dish with a glass of Chablis Premier Cru Vau de Vey.
List of ingredients
Serves 2 to 3
1 small butternut squash
2 tbsp olive oil
½ cup of butter
1 white or yellow onion coarsely chopped
1 shallot (finely chopped)
1 clove garlic, minced
2 tbsp fresh ginger, sliced
2 cups of apple cider (or non-filtered apple juice)
1 sprig of fresh thyme
1 sprig of sage
1 fennel bulb (may be called fresh anise)
1 green apple (Granny Smith)
juice of ½ lemon
6 to 8 large scallops
Salt and pepper
Sommelier's tip

Chablis Premier Cru Vau de Vey
This recipe brings out a striking contrast between the creamy butternut squash puree and the acidity and crunch of the green apple and fennel. The subtle taste and hint of salinity of the scallops ties together and perfectly balances this harmonious accord. The dish calls out for a fresh, lively, direct wine. A Chablis Premier Cru Vau de Vey is the ideal companion.
Preheat the oven to 150°C.

Peel the squash and cut it in two (top to bottom).
Scoop out the seeds and pulp, spread them on a sheet pan lined with oven paper, and roast for 25-30 minutes.

Meantime, cut the squash into 2 cm cubes. In a medium-sized saucepan, melt ¼ cup of butter (4 tbsp). Add the onion, shallot, ginger, and garlic and soften over medium heat for 5 minutes. Add the squash cubes, the cider (or apple juice), the thyme and the sage. Continue cooking until tender (15-20 minutes).
Coarsely grind the roasted seeds and pulp with the help of a spice or coffee grinder. Put aside.

Remove the thyme and sage sprigs from the saucepan and blend the rest to obtain a smooth puree. Season with salt and pepper and return to low heat to keep warm.
Core and thinly slice the fennel. Reserve the fronds for decoration. Peel and core the apple and cut it into thin (Julienne) strips. Place the fennel slices and apple strips into a salad bowl. Toss with the juice of half a lemon, salt, and pepper. Cover with a damp paper towel (to avoid browning) and set aside.

Cooking the scallops : Heat a skillet with olive oil and a little butter. Cook the scallops for three minutes on the first side. Turn over, baste with butter, and cook an additional 2 minutes.

Composing the dish: put some squash puree in a soup plate (or shallow dish) and place three scallops on it. Top with some apple-fennel salad, and sprinkle with the seed and pulp mix. Garnish with the fennel fronds.
Serve immediately.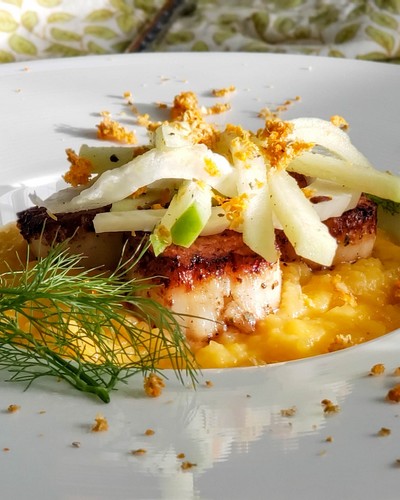 The author of this recipe