Spaghetti Alle Vongole
Simple, good and inexpensive. This dish is ideal for impressing your guests at little cost and without spending hours in the kitchen! And what better than a Chablis Premier Cru Vaucoupin to accompany these tasty clams?
List of ingredients
Serves 2 :

500 g fresh littleneck clams
250 g spaghetti or linguine
2 tbsp olive oil, plus extra for drizzling
3 garlic cloves
Half red chilli, finely chopped
50 ml white wine
Large bunch of flat-leaf parsley, finely chopped
Salt and pepper
Sommelier's tip

Chablis Premier Cru Vaucoupin
This dish is perfectly balanced. The tenderness and chewiness complement one another, with flavours ranging from the delicacy of the clams, through hints of hazelnut, to the coarseness of the chili. The minerality of a Chablis Premier Cru Vaucoupin will underscore this balance while echoing the salinity of the clams.
1. Pour in 4 cups of water into a large container and add 2 tbsp of salt. Leave the clams in the salted water for 2 hours. Remove the clams from the water and rinse them thoroughly, preferably with a brush. Discard any that are open or damaged.

2. Prepare a pot and put in the water for the spaghetti. Bring it to boil. Cook spaghetti according to pack instructions.

3. Prepare a large pan and pour in the olive oil. Heat it and add garlic and chilli. Gently fry for a few seconds. Add the clams and the white wine as well as salt and pepper. Bring it to the boil, then cover the pan for about 3 minutes, until the clams are open.

4. Drain the pasta, then tip it to the pan and toss together. Add the parsley. Serve in bowls, and drizzle with olive oil.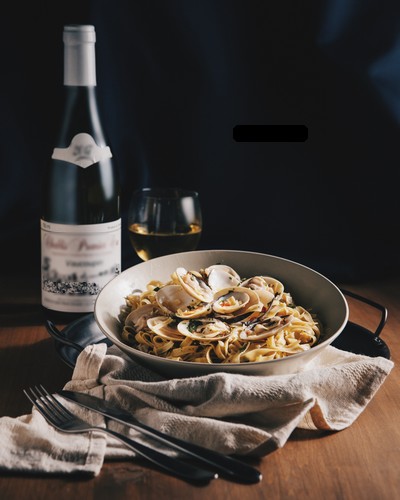 The author of this recipe