What is a flag-bearing Climat?
The area covered by the Chablis Premier Cru appellation comprises 79 lieux-dits dedicated to wine production. The INAO (Institut National de l'Origine et de la Qualité) has grouped them into 40 Climats that can appear on the labels. In reality, however, only twenty of them are commonly used.
Among these 40 Climats, 17 are called flag-bearing Climats, a particularity of Chablis. The wines produced on the neighboring Climats can either bear the name of the Climat from which they originate or take the name of the flag-bearing Climat they fall under.
Download the chart with the flag-bearing Climats of Chablis
It should be noted that half of the Climats in the Chablis Premier Cru appellation had the same name at the start of the 15th century as they do now.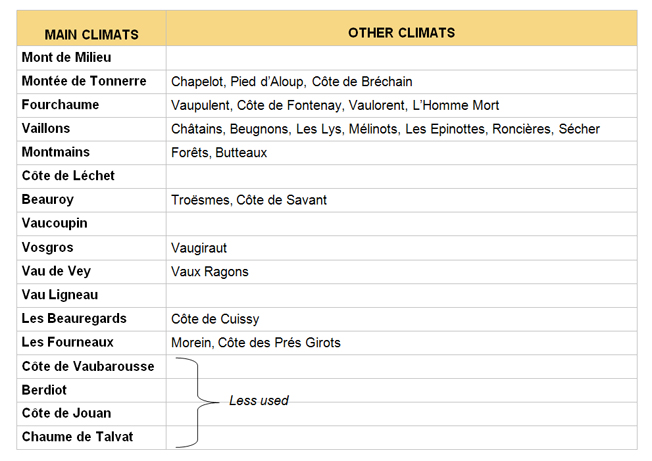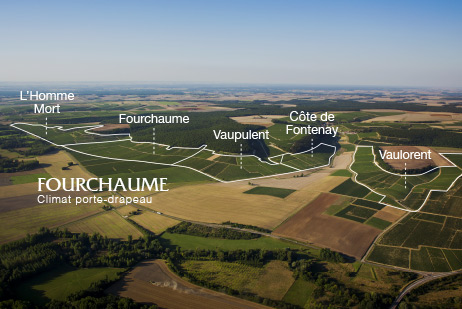 Here is an example:

A producer with vines in the Climat known as Vaupulent can call wine from this plot Chablis Premier Cru Vaupulent or Chablis Premier Cru Fourchaume, since the Climat Fourchaume is the flag-bearing Climat for this area. The same goes for the Climats L'Homme Mort, Côte de Fontenay and Vaulorent, as they all fall under the flag-bearing Climat Fourchaume.

A few flag-bearing Climats have not been tied to other Climats and stand on their own; Mont de Milieu, Côte de Léchet, Vaucoupin and Vau Ligneau to name a few. The same goes for Climats that don't usually appear on labels, thus rarely used, such as Côte de Vaubarousse, Berdiot, Côte de Jouan or Chaume de Talvat.