After winter, the vine is ready to embark on a new growth cycle. The days are getting longer, the temperature is climbing, and the vine begins to "bleed". Sap starts to flow from the wounds left by the winter pruning; growth has recommenced.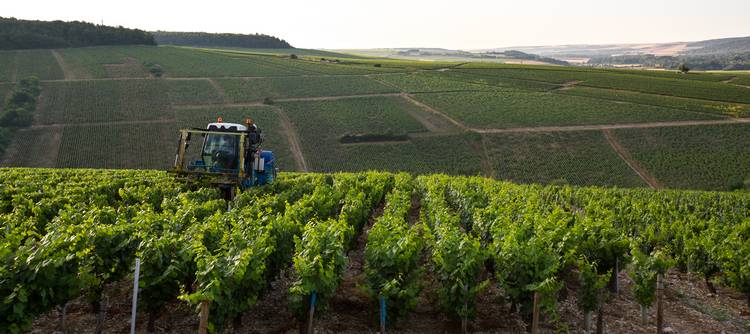 The buds then emerge from beneath the brown scales that cover them. Known as bud break occurs in late March or April, depending on weather conditions. The buds are then vulnerable to spring frosts, which can destroy them. This is a risk in Chablis, and growers do not sleep easy until the season of possible frosts is over, after the feast days of the "Ice Saints", St. Mamertus, St. Pancreas and St. Servatus, on 11, 12 and 13 May.

March, April and May are also the months during which plantation of young vines takes place.

Following bud break, a green point appears from the buds. Then the leaves emerge, at this stage arranged in the shape of a rosette. Next they open out and the future bunches appear. Flowering is not far off now.

From the end of May through July, work in the vines is very important. The suckers have to be removed, since these shoots bear no fruit and can slow the maturity of those that do. This task in French is known as "épamprage". Several operations help peg back the vigorous growth of vines: the canes have to be tucked up into the wire trellising and trimmed. Trimming, which consists of cutting off the top part of the branches, improves sun exposure and ventilation for the bunches. De-leafing also allows the grapes to get the maximum benefit from the sun.

Everything is done so that the fruit on the vine attains the desired optimal quality. To make good wine, you first have to have good grapes.
Discover the growth cycle for vines in Bourgogne :